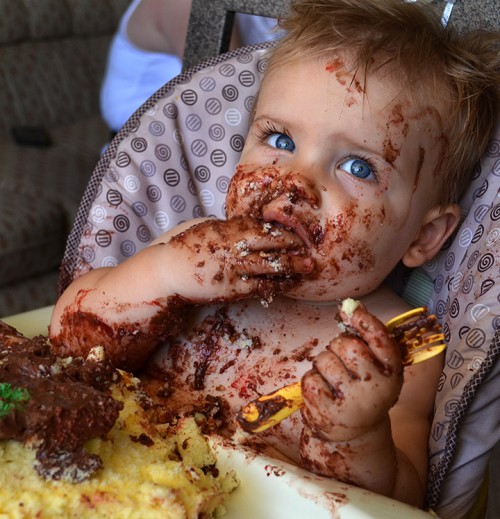 I had to get back to the Sunshine State in time for Grandson Finn's first birthday party on April 24. Adam and Carly put together a super pool-oriented party that kept the kids maximally occupied and minimally melted down.
Finn took awhile to get the idea of what to do with his cake, but it didn't take long before he was covered from head to toe with what looked like cake measles.
Herding cats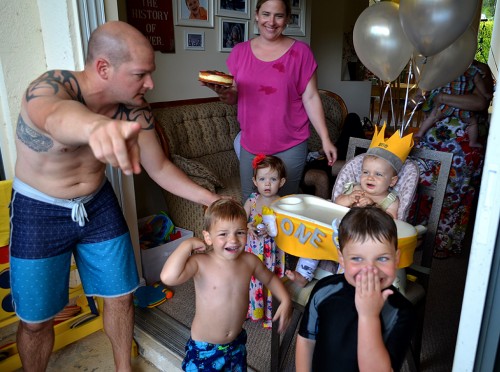 Son Adam is trying to direct the scene, but Elliot, 3, left, and Graham, 5, right, weren't getting with the program.
Can you blame them?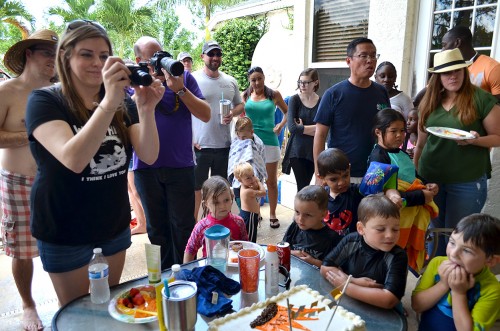 I'd be scared of facing this crowd myself.
That, like so many things, reminds me of a story. During the Watergate hearings, Sen. Walter Mondale walked down the Capitol steps to be confronted with a media scrum waiting for a witness to come out.
"Hey, guys, what do I have to do to get this much attention?" he joked.
"Easy," a photographer said, "Just screw up one time."
These folks are all wet
Here's a gallery of photos that could be filed under "chaos" in the dictionary. Another parent and I were noting how young kids in Florida learn to swim. Graham and Elliot are strong swimmers for their age, and Finn will get drownproofing lessons soon.
Click on any photo to make it larger, then use your arrow keys to move through the images.