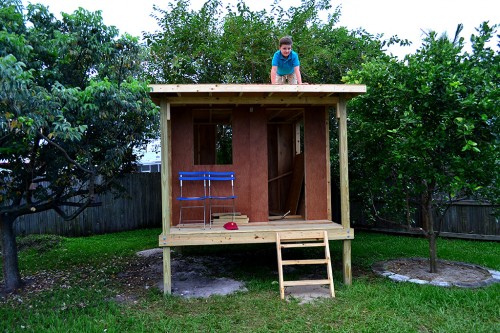 Grandson Malcolm's eighth birthday is coming up this weekend. His party was held at a skating rink last year, which gave me an excuse to write about the rinks in Cape and Jackson. His parents, Matt and Sarah, teamed up with Neighbor Will Hill (he's the guy without a shirt) to build a "tree house" in the backyard.
Will actually knew what he was doing. I built something for Sons Matt and Adam when they were a little younger than this. It started out as a simple platform with a sandbox under it. Before long, a fireman's pole and a slide were added. The original structure used a rope ladder with PVC pipe rungs. It could be pulled up to keep Adam from climbing up to the level where he might be tempted by Matt to see if he could fly by flapping his arms.
Building a monkey bars gave me an excuse to add a swing to the mix. There was no overall plan – stuff just got added whenever the posthole digger cried out to make a new hole in the ground.
Time-lapse video
Matt set up his Nikon DSLR to take a photo every 60 seconds so he could condense a 12-hour project into a three-minute video. The structure could be more properly called a play house rather than a tree house since no trees were harmed in the making of the building, still, we CALLED it the tree house. Here's what a REAL tree house looks like.
Mat made from shopping bags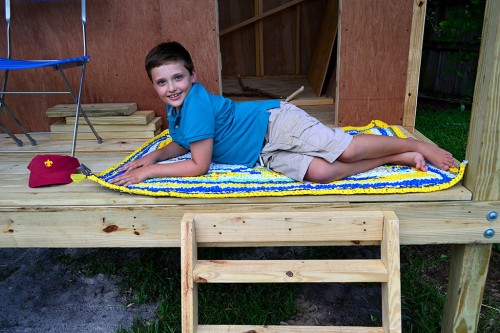 I described how Mother had turned into a bag lady, making all kinds of stuff out of plastic shopping bags. One of her projects was to make a mat to go under Malcolm's sleeping bag when he's camping. He said that something like that would made a really nice rug for his new tree house (hint, hint).
Trapdoor leads to roof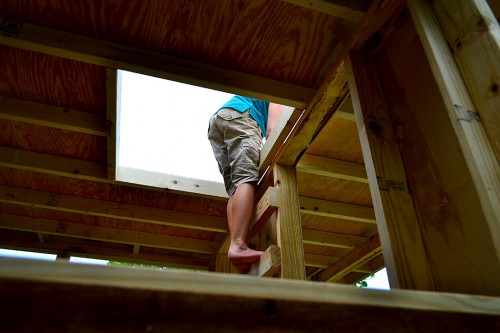 Malcolm was already talking about how it would be nice to have a trapdoor in the floor, too, "just in case." It's a gender-neutral tree house. Neighbor Will's two daughters and Malcolm are joined at the hip every waking moment, so there is no immediate prospect of a No Girls Allowed sign going up.
Photo gallery of tree house pictures
I was no fool: I showed up after all the heavy setup work had been done, and I left when it looked like a thunderboomer was going to roll in. The rain never materialized, but it was close enough that temps dropped to a comfortable level and Matt and Neighbor Will pushed to get the roof on before knocking off for the evening. So, you get to see the middle part of the project.You'll have to click on Matt's video to see the whole deal.
Click on any photo to make it larger, then click on the left or right side of the image to move through the gallery.