Lamberts might be the home of "throwed rolls," but the Pike Place Fish Market in Seattle is the home of the flying fish. Fishmongers got tired of having to walk out to the Market's fish table to retrieve a salmon each time someone ordered one. Eventually, the owner realized it was easier to station an employee at the table, to throw the fish over the counter.
It's become part street theater and part efficiency over the years.
Customers get in the act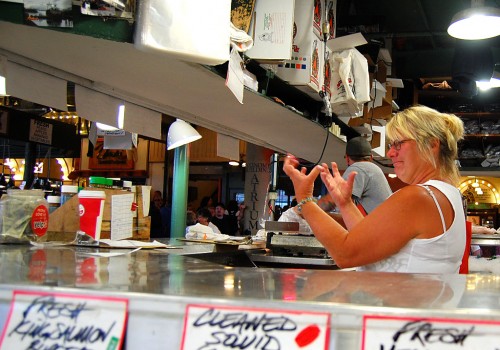 Not only can you watch employees flinging fish here and there, customers can get involved, too. Caron St. John of New Jersey was told to practice using her "eagle talons" to grab the fish when it came flying at her.
Caron celebrates catch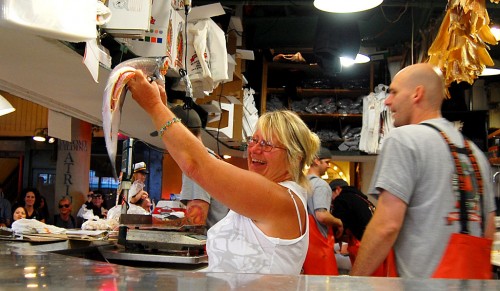 She must have paid attention, because seconds later she was holding a hunk of salmon in her arms.
Wide variety of seafood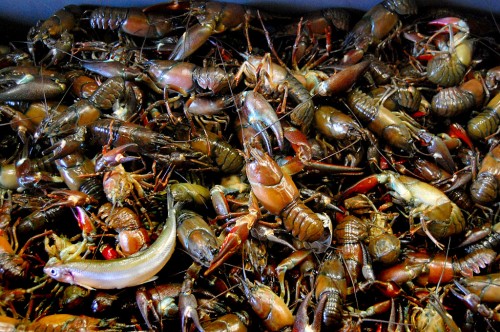 If if lives in the water, it's likely to be found in the market. Here is a link to the fish market's website.
Farmers' Market opened in 1907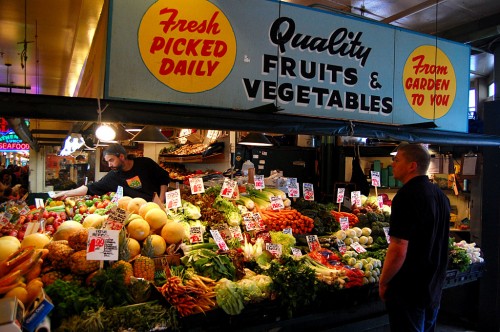 Pike Place Market opened in 1907 and is said to be one of the oldest continuing operating farmers' markets in the country. Even though tourism has caused the Market's emphasis to shift towards crafts, there is still a lot of beautiful produce sold there.
Wikipedia has a long piece on the history of the place and how it was almost lost to development.
Produce as a work of art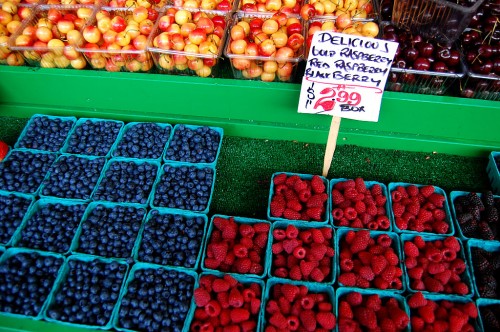 It's like walking through an artist's palette of edible paints.
Covers nine acres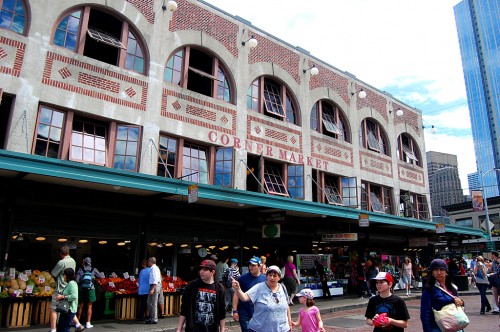 The Market's official website says that it covers nine acres and attracts 10 million visitors a year.
That's the good news and the bad news. They must have all been here when we were in town.
"Traffic Alert. Slow traffic ahead"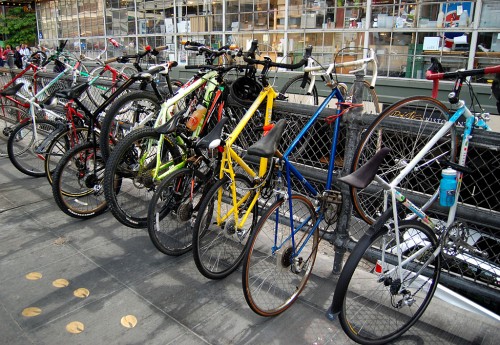 We're leaving Seattle early, partly because it looked like West Palm Beach might be visited by Hurricane Emily on Saturday, but mostly because we were tired of fighting traffic. We couldn't go five miles without the GPS intoning, "Traffic Alert. Slow Traffic Ahead. Expect delay of 52 minutes."
This afternoon we wait through six cycles of a traffic light before getting through an intersection on our way to a downtown attraction. We decided we don't have that many more years left to waste them in gridlock, so we bailed.
A tour guide said that the average Seattle resident spends 44 hours a year stuck in traffic. You can see why bicycles are so popular in the area.
There might be a couple days of no updates while we're flying back home.
Photo gallery of Pike Street Market
Click on any photo to make it larger, then click on the left or right side to move through the gallery.