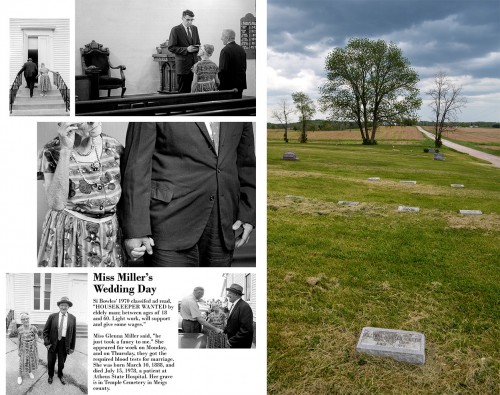 I've been having a fun week in Athens, Ohio, helping put on a Picturing the Past workshop to help people think about how they can take pictures today that may be helpful to historians in the future. To be honest, I wasn't sure how this was going to work. I'm used to taking pictures for newspapers and putting together photo exhibits, but I didn't know what working with a mixed bag of amateurs would be like.
We capped the workshop size at about 20, but Curator Jessica and I didn't know whether we'd be talking to ourselves or if we'd be turning people away. As it was, we slipped some extra folks into the mix and ended up with a few more than 20. After a three-hour presentation last Saturday, we turned the group loose to take photos. We held evening office hours on Tuesday and Thursday to see how people were coming along.
Some of the photos here are ones I put together for an exhibit for the workshop. Click on the pictures to make them larger.
Participants quick and eager to learn

They did very well. I hope I can persuade the folks to let me publish their pictures in the blog. What was really cool was that some of the folks who met Tuesday were using point-and-shoot cameras and had never taken them off Automatic. I showed then how to adjust exposures and sent them out to do some night photography. They came back with some nice slice of life photos.
Along the way, I was asked all kinds of questions about equipment, software and what tools I used. I promised them I'd try to answer all the questions in one place at one time. Full disclosure: most of the links I'm posting are for Amazon. If you buy something after clicking on the link (or after clicking on that big Click Here button at the top left of the page), I make about 6% of your purchase without it costing you a penny. It's one of the ways I keep Wife Lila and me in cat food.
Camera Equipment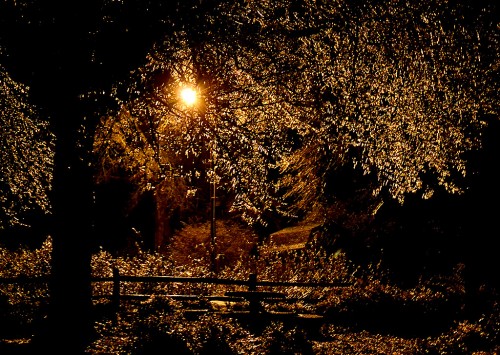 In film days, I was a Nikon user with a stable of lenses ranging from a 16mm fisheye to a 500mm mirror. After I retired, Son Matt gave me a Nikon D-40 to play with. It was the first digital camera I had used that had the look and feel of my old Nikon Fs. I've used three similar models since 2008:
Nikon D40 – The thing I liked about this body is that it's light enough that I can put it in my bicycle's handlebar bag. I use it with its stock 18-55mm zoom lens. I'd like something a little wider and a little faster, but I've shot probably close to 80,000 pictures with that lens and have learned to live with its limitations.
Nikon D3100 – Son Adam traded me a D3100 he picked up online for my D40 and a little cash. It has a few more features that he didn't think he'd use. You can get it for less than a D40 now that a newer model has come out. (BTW, avoid the D3000, it has received lots of bad reviews).
Nikon D3300 – The newer replacement for the D3100. I haven't used it.
Nikon 55-200mm zoom lens – The boys gave me this telephoto zoom for a birthday present. I don't use it a lot, but it worked out well shooting an ice storm at night.
Nikon D7000 – Having a second lens made me want a second body so I wouldn't have to change lenses, plus I wanted two bodies in case one of them went oink when I needed it most. The D7000 is a lot heavier than the D40 or the D3100, but it has some features that have made it my prime camera. I bought it without a lens since I already had one. The D7100 came out about the same time, but I didn't see enough difference to pay about $300 more.
Less expensive cameras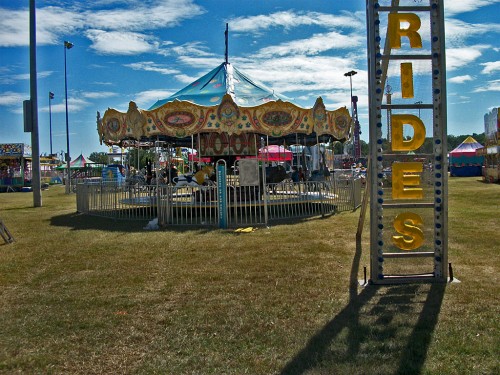 Fuji FinePix JX500 – Not everyone needs a DSLR. I bought Mother this simple point-and-shoot from a local big box store for well under a hundred bucks. Here's a photo of the district fair she uploaded from her iPad. (By the way, she'll be 93 in October, so it proves that you CAN teach an old dog new tricks.)
Canon PowerShot D10 waterproof digital camera – My grandson Malcolm turned 10 this week. When he was about eight, he got this camera. I couldn't believe how well it worked, particularly in the pool. They've come out with a newer model, the Canon PowerShot D30, which has better specs and is a couple hundred bucks cheaper. I wish I had one of these back in the days when I carried a Nikonos for covering hurricanes.
Accessories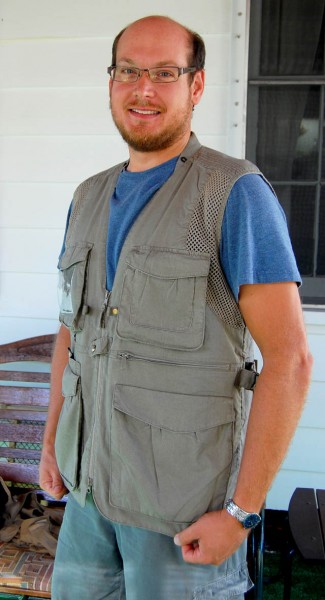 Domke PhoTOGS Vest – Some of you were curious about the shooting vest I use. After years of using cheap fishing vests to hold my film, lenses and accessories, I bought a vest made specifically for photographers by the photographer who came up with the original Domke camera bag for the Bicentennial year. This is a nicely designed piece of clothing that will last for years and keep your equipment safe. I am fairly rotund, and the large fits me with plenty of room. It's large enough that you can wear a light jacket under it when the weather turns cold. Here's a more complete review of the vest and bags. (That's Son Matt showing it off.)
Domke F-6 Little Bit Smaller Camera Bag – Now that I'm not carrying as many lens and other accessories, I can get by with a smaller camera bag. This one has all the features of my big Domke bag but is a lot less bulky. I carry a strobe, two video cameras, a wireless mike and some small accessories and have room to spare. If you look at the review above, you can see how well the bags hold up under daily hard use.
Circular polarizing filter – I ALWAYS have some kind of filter on my camera to protect the lens from scratches. It's cheap insurance. In the old days, I'd use a UV filter. Polarizing filters made it hard to calculate exposures, so I avoided them unless absolutely necessary. With modern digital cameras, that's not a factor, so I've gone to using them as my standard filter. The cut down on the light a bit, but it's amazing how much better they make skies and foliage look. Being able to kill glare and reflections is even helpful indoors. Here's a post I did showing when to use (and not use) a polarizing filter.
Overnight Prints – Someone asked who printed my business cards. These folks are fast, produce good quality cards and have lots of special deals if you aren't in a hurry.
Vanguard Alta Pro 264AB tripod – I didn't use a tripod often as a still photographer, but they are necessary if you are shooting video, particularly interviews. My old Bogen tripods served me well for 30 or 40 years, but they were getting cranky in their old age. After searching around, this was the best tripod I could find for the money. I'm not crazy about the head, but I'm learning to live with it.
Video equipment
Canon FS100 Camcorder – This was my first digital video camera. I was really impressed with how well it worked, I even put video mounts on the front and back of my bike to shoot ride videos. Like everything else, you can buy a newer model Canon FS300 for less money.
Canon VIXIA HF M500 camcorder – After using the FS100 for a couple of years and finding myself doing more and more video work, I decided I wanted a better camera. This one is small, light and produces good images. One thing I like is that it the battery will run for about an hour and 20 minutes, which is just about how long it takes to fill a 32-gig SD memory card. The weak spot is audio, but I solved that with the next item.
Azden WLX-PRO Lavaliere wireless microphone – I learned very quickly that good video without good audio was useless. The built-in camera mike was OK for some things, but I was doing a lot of oral history projects and needed to be able to hear my subject clearly. Professional sound equipment was out of my price range, but this mike has done quite well. For example, if you play the video above, the first and last interviews were done with the camera mike. The interview with the man in the middle was done with the wireless mike clipped to him. The difference is clear.