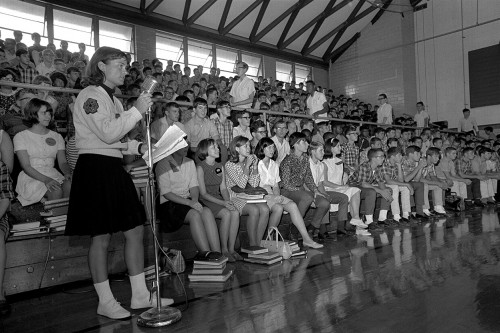 I stumbled across this shot from a Central High School pep rally. I didn't want to put a name to the cheerleader, but I notice a "67" on the C on the front of her sweater, if that helps you narrow her down. (You can click on it to make it larger.)
The photo was taken Friday, September 9, 1966. I know that because the next frame over was of a fatal car crash at the intersection of I-55 and Hwy 61 intersection between Cape and Jackson. It's one I remember well. Too well, in fact.
I never come to that stoplight without looking both ways before pulling out, even if I have the green.
Detail, details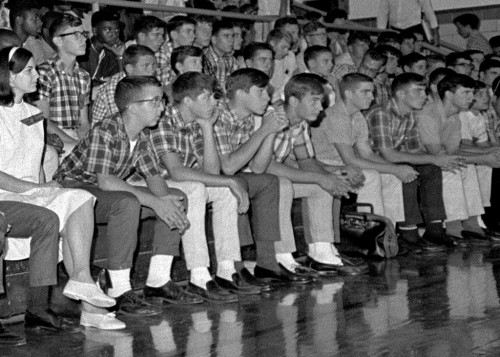 I blew up the image on the screen and started looking for details in the crowd. The first thing I noticed was a handful of girls wearing handmade Tiger spirit badges made out of construction paper. That's a dead giveaway that they were probably freshmen.
As I scrolled down the row, I was going to comment about how loafers were the shoe of the day, but I didn't see a single penny in any of them.
That's when spotted what had to be the unofficial school uniform for boys: at least 10 of these guys were wearing plaid shirts. I don't know if it was a coordinated effort (knowing guys, I doubt it) or a coincidence.
The pep rally must not have been too successful because Saturday's Missourian said "Lean Chicks Take Advantage of Tigers' First Game Mistakes." The Blytheville (Ark.) Chicks defeated the Tigers 27-13 in Central's opener at Blytheville.