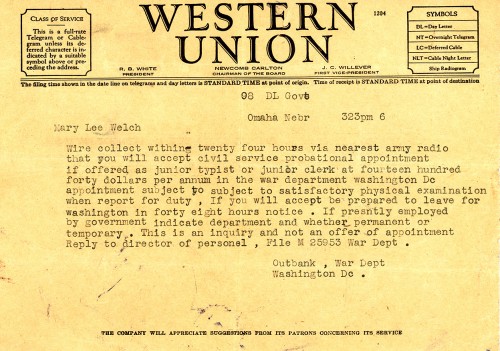 Tucked away in an envelope in a nondescript Bible buried in a metal cabinet that hadn't been opened in decades was this telegram to Mother that validates a story that she told for years. (Click on the photo to make it large enough to read.)
Washington would never have been the same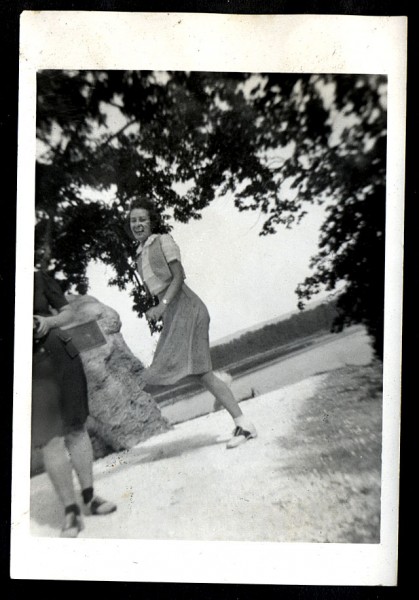 Had this young college girl from Advance jumped at the War Department's offer to become to junior clerk or typist in Washington, D.C., for the munificent salary of $1,440 per annum, D.C. would never had been the same.
"I'd rather be married than type"

When Mother told the story, she always said, "I'd rather be married than type."
Dad and Mother were in a movie theater when the word about the attack on Pearl Harbor broke. When they came out, my grandfather said, "If you kids are going to get married, you'd better do it right away."
And, they did, exactly one month later, on January 7, 1942.
The telegram has a time of day stamp – 3:23 p.m. – but it doesn't have a date, so I don't know when it was sent.
One of those things
We've had a long-standing family tradition of giving the car horn two short beep beeps when we pull out of the driveway. When I left Cape on Friday, I backed out onto Kingsway Drive, then, out of habit, went "BeepBeep."
That's when it hit me: there was nobody there to hear my good-bye beeps. Dammit, it's those little things that sneak up on you.