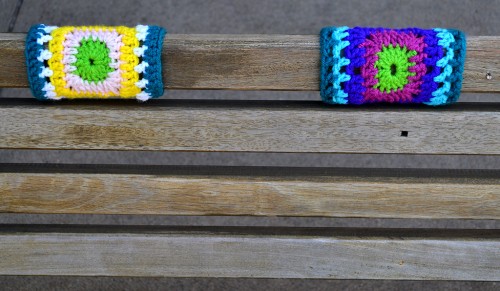 Bob, Claire and I were walking around on Water and Main Streets when they spotted some knitted / crocheted (don't ask me) objects on the park bench at the southwest corner of Themis and Main. I looked behind me and saw some sewing patterns in the store window, so I dismissed them as having to do with sewing notions.
There's an other one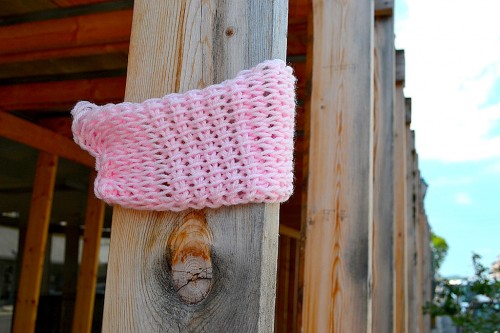 We crossed the street and spotted another one on a support post for the walk-through in front of 101 North Main, which doesn't look like anything has been done to it since the last time I was in town. Our curiosity was piqued.
Claire and I went in to quiz the shopworkers in the store behind the bench. They disavowed all knowledge and weren't much help in formulating a cool rumor to spread. They DID think they had seen the colorful "bombs" on Spanish and Broadway.
Bob documents the yarn bombs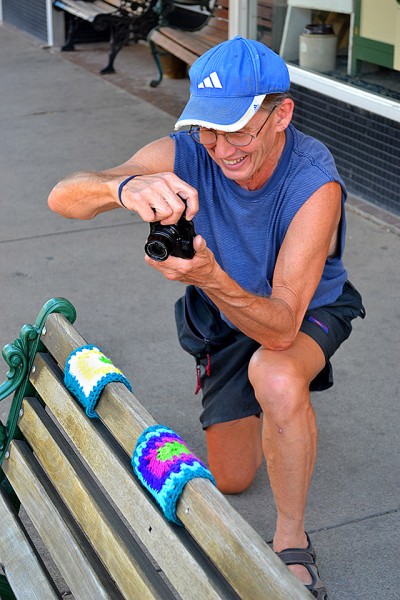 We spotted more of the craft objects on a bench on the northeast and southeast corners.
We saw some folks standing in front of the Cup and Cork and started to ask them if THEY knew what this was all about. The new owner of the place, a nice guy named Patrick Abbot, said they were in the middle of dedicating the place, and he'd explain in a couple of minutes. We watched as a guy splashed the doorway with a clear liquid, then sprinkled a little on Abbot and a woman. It was a killer hot day, so I hoped I'd get a spritz, too, but it didn't happen.
Abbot said that he watched a woman – a "unique individual." was the way he put it – put the squares on the bench across from him. When she moved to the bench in front of his store, he asked her what she was doing.
International Yarn Bomb Day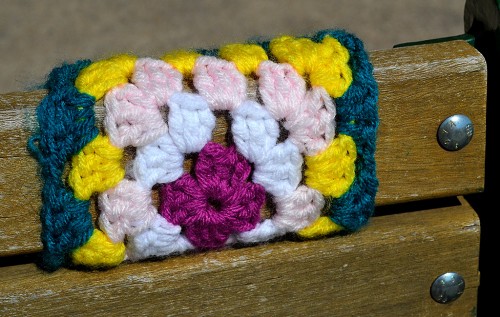 "It's for International Yarn Bomb Day," she explained.
I did a quick Google News search and could come up with but two stories referencing anything about Yarn Bombing.
The Salisbury Journal (in the United Kingdom) had a story, "Visitors to Salisbury Citycentre this week may notice something a little bit different about the statue of Henry Fawcett in the Market Place. The statue was adorned with knitted decorations by a group calling itself the Ninja Knitters, marking Worldwide Yarn Bomb Day."
nj.com reported, "FRENCHTOWN — More than two dozen yarn bombers descended on this tiny Delaware River town in Hunterdon County last night, June 8, to tie colorful knitted and crocheted handwork on trees, signs, posts and benches throughout the downtown. Yarn bombing, sometimes called guerrilla knitting, is a type of graffiti or street art that employs colorful displays of yarn or fiber rather than paint."
A search for "yarn bomb" didn't turn up any info in The Missourian.
[Note Homeland Security: if your searches turn up repeated mentions of the word "bomb," be sure to read it in the full context of what has been written. I would hate to have an innocent post blown up out of proportion. (Oops.)]