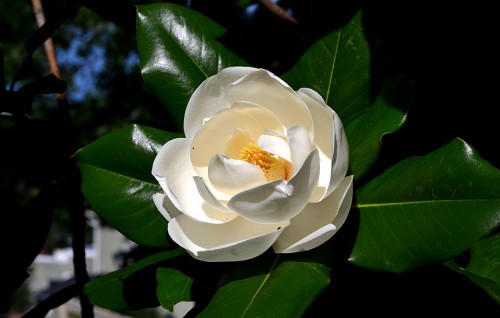 I shot this magnolia blossom at an undisclosed location that did not appear to have surveillance cameras around. Right after I photographed it, it inexplicably fell off the tree at my feet. I thought it might be possible to resuscitate it, so I took it home to Mother just like I would any other stray. (You can click on the photos to make them larger.)
Slightly wilted
By the time I got home, the bloom had slightly wilted, but it perked right up as soon as she put it in water. The whole kitchen was filled with a sweet fragrance. When I went to bed, I noticed that the bloom had closed up. The next morning, it was wide open again.
I happened to overhear Mother talking on the phone to one of her friends about how nice it was to be able to get pleasure from something as simple as a flower blossom on the kitchen table. It made me feel good. It's amazing how much you can learn from your mother.
When I went to bed last night, I didn't turn on the kitchen light, but I could see that what I think is called the anthers – the yellow part – had fallen off inside the bloom.
Magnolia blossom turned brown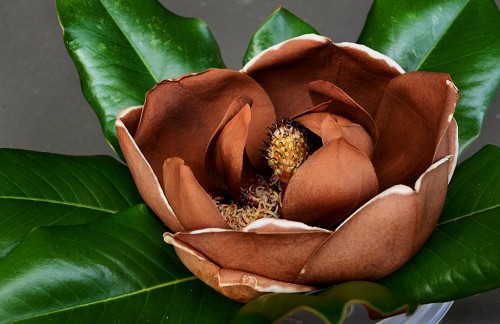 When we got up this morning, the blossom had turned a beautiful shade of brown. The petals were still soft, but they had changed color. The undersides of the leaves had turned brown, too.
In some ways, I find this more interesting than the white flower. There are more subtle shades in it.
The one that didn't fall off the tree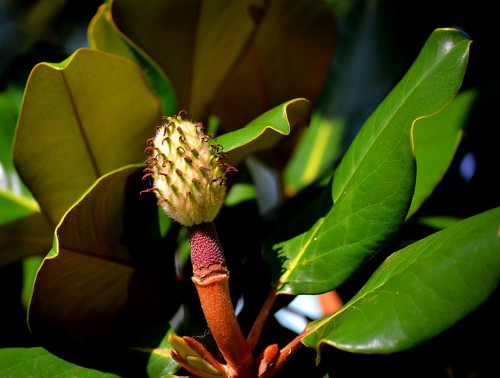 This one, by the way, didn't fall off the tree. Maybe another day.