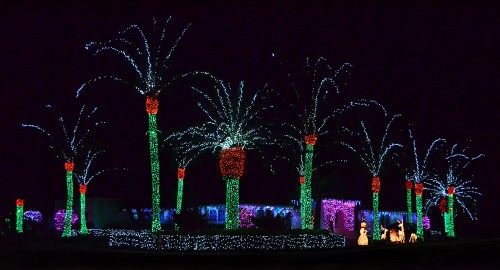 Road Warriorette and former bike partner Anne, who abandoned me to move back home to Texas, arrived for a West Palm Beach visit Thursday afternoon. I got her settled in at her motel, then we went out for a great dinner, visited bike partner Osa, stopped by another of Anne's friends, then headed up Flagler Drive where we spotted this house all set for Christmas.
The palm trees – and the balmy 70-degree temperature – gave an indication I wasn't in the Midwest.
Pining for the ocean
Anne's a Texan by birth and inclination, but she did admit to pining for the ocean. I turned right on Southern Blvd., and took her for a ride along Palm Beach. When we got to one of the few places you could park and get public access to the beach, I told her she could get and and frolic in the sand and surf if she liked, but I preferred the Mississippi River to the Atlantic Ocean.
When we left, I asked if she'd like to go to the north end of the island to the Palm Beach Inlet. That's like asking if bears fertilize the forest.
"Don't fence me in"
When we got to the inlet, there was a chain holding the gate to the small park closed. I put my car in park with the four-way flashers blinking and let her out. I assumed she was going to stand at the gate and look out toward Singer Island's lights across the water.
I heard her humming "Don't Fence Me In," a rattle of the fence and she was gone from sight. She never did things like that when she was a Floridian.
"That's not a happy sound"
On our way back to the motel, I told Friend Anne, "That's not a happy sound. I think I've got a flat tire."
Indeed, the left rear tire was flat.
Maybe I can give it a shot of Fix-a-Flat or pump it up with my portable air compressor, I considered. The only problem was that I had taken all those options out of the car last night when I unloaded it, but hadn't replaced them. Plan C was to put the doughnut spare on, something I really hated to do since the Honda jack is the worst piece of equipment ever devised.
I had just started attacking the problem when a car pulled up behind us. It was Patrol Officer Larry Ferguson of the Palm Beach Police Department. I figured he'd run our tag, ask for ID, shine his flashlight around inside the car, then leave us in the dark when we came up clean. (Well, I knew I would come up clean. There's no telling what Friend Anne has been up to in the Lone Star State.)
It turned out Larry was a nice guy who went way beyond the call of duty. I'm going to write a letter to the chief telling him that Larry is a great representative of his department.
How to have a fun evening in Palm Beach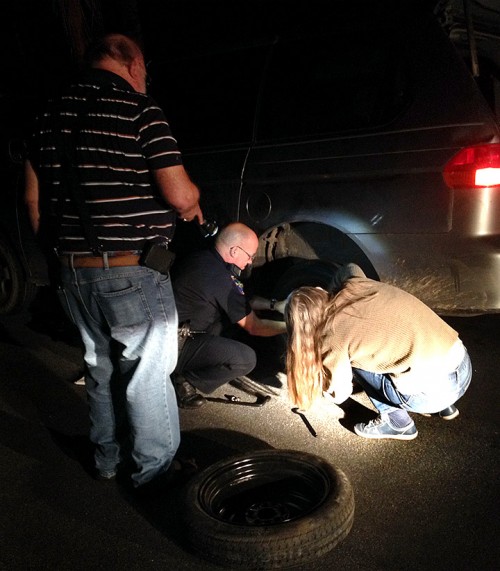 Here are few of the things that happened:
I didn't have the jack on the frame properly so it slipped off.
The doughnut spare was flat, so I called Wife Lila to bring my tools and compressor. Larry offered to take me someplace to get it aired up, but I said it was such a hassle to jack the car up that I'd rather leave it on the car and bring the compressor to the tire.
Lila arrived, we hooked up the compressor and it hummed away in the humid air for several minutes. I was beginning to regret having that second glass of tea with dinner.
Larry felt around the rim, felt air escaping and said the tire was so flat it had lost its bead and would NEVER fill up.
We jacked up the car again, removed my spare, and put put on Lila's spare (we drive the same model van). At some point, my jack twisted and became inoperable, so we had to switch to Lila's jack.
We offered Larry an opportunity to escape, but he pitched in fighting the jack. helping lift the tire onto the studs and making sure Anne had tightened the lug nuts properly. Wife Lila didn't get a shot of me toiling away with sweat splashing off my forehead, but she did capture me in a supervisory role.
Things that put the jolly in the evening
With Thanksgiving coming up, I should give thanks for a few of the good things that happened.
Patrolman Ferguson, a native of West Palm Beach who moved back here after serving as an officer in Washington State, was not only a tremendous help in getting us through our tire difficulties, but he was also a genuinely nice guy who was fun to talk with and who gave us an interesting perspective about how the area had changed since he was a kid going to Twin Lakes High School.
Wife Lila showed up with everything needed to get me back on the road. I'm glad my flat happened in Palm Beach and not in Nowhere, Ga.
Anne provided help and moral support once I explained to her that we were in Florida not Texas: "No, Anne, it didn't 'throw a shoe.' We don't have to call for a blacksmith."
Buying two REAL jacks to replace those Honda pieces of junk will go to the top of my to-do list tomorrow.