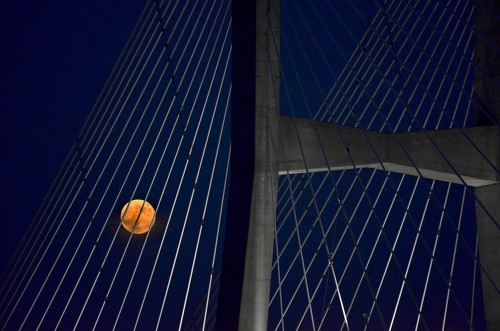 After reading all the hoopla about yet another Super Moon, I checked the moon tracker on my Droid smartphone and told Mother we'd better saddle up so I'd be ready at 6:46 when the moon was supposed to rise at 110 degrees, slightly south of east. I calculated that the terraces at the River Campus would be a good place to use the Bill Emerson Memorial Bridge as a foreground object.
6:46 came and went. Then 7:00 and 7:15. That's when I discovered that my moon ap thought I was still in Florida. I was an hour early. I cut a nap short for nothing.
That gave me plenty of time to shoot the trees in the gathering twilight, the river hiding behind a curve and a couple getting acquainted on the old bridge's overlook before the moon made its appearance.
Super Moon photo gallery
Click on any photo to make it larger, then use your arrow keys to move through the gallery.