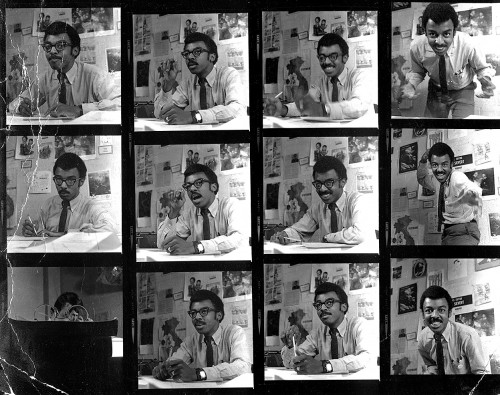 I got an email from an Erin Roberts, External Relations Coordinator, Scripps College of Communications, at Ohio University this week. Wow, that's a mouthful.
Anyway, she wrote, "Andy Alexander let me know that you were a student photographer while he and Clarence Page were both writers with the Post. I am currently working on a short photo montage honoring Clarence, as he will be inducted into the Ohio Communication Hall of Fame on campus later this month. Do you have photos from that time of Clarence that might aid me in the presentation?"
I think I can come up with a few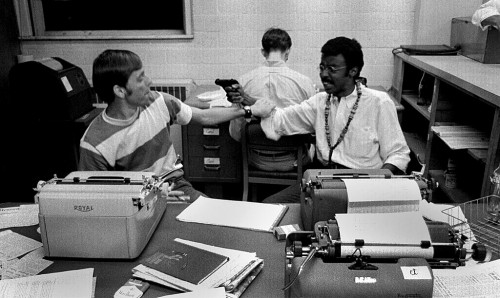 Oh, boy do I ever. Of course, when the Hall of Fame gets wind of student reporter Clarence, they may make a last-minute shuffle in their choice. Maybe I shouldn't bring up the story about how Clarence got the publisher of The Athens Messenger hauled out of bed in the wee hours of the morning.
Clarence and the F-word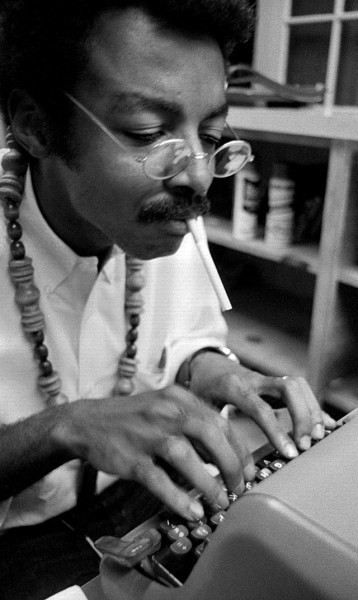 Here's Clarence's version of what happened:
"Kenner Bush, [publisher of The Athens Messenger, which printed The Post] told me the typesetters woke him up in the morning, poised to walk out rather than print my uncensored reporting of the F-word that brought a student into conflict with an 1812 Athens code. OU President Vernon Alden wasn't happy either, to say the least. As some of you will vividly recall, our generation of Posties was pushed to the brink of expulsion and gazed over the edge before we were yanked back amid a burst of national publicity."
Clarence was born June 2, 1947, in Dayton. After his graduation from Ohio University in 1969, the Army got its mitts on him for a short period of time, then he went to work for The Chicago Tribune. He won a Pulitzer Prize for Commentary in 1989.
Today, a much rounder-faced Clarence shows up on political talk shows trying to bring some light to the heat.
Ohio College Newspaper Association President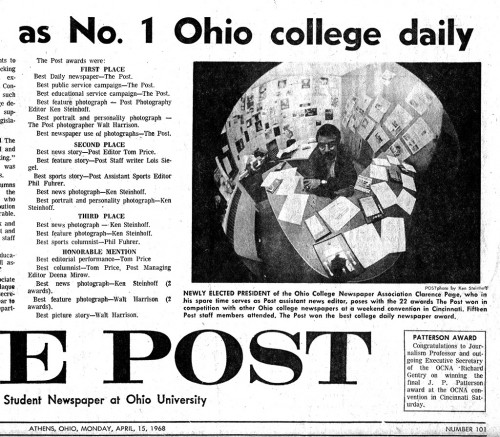 The Post did quite well in Ohio College Newspaper Association competition in 1968. Clarence was elected president of the association.
When Carol Towarnicky and I got together this fall to do a presentation on the birth of the student rights movement at Ohio University, we traded "remember when?" stories. She implied that she and I engaged in some shenanigans that helped get Clarence elected president. She claims that she and I climbed on the roof of the hotel where the conference was being held and hoisted a bed sheet with a Page campaign slogan on it from the building's flagpole.
Now, climbing on rooftops and water towers is something I did frequently, but I disavow any knowledge of such tomfoolery, even though I'm sure the statute of limitations has long expired.
Other OU Post stories
Clarence Page photo gallery
This collection is primarily so Erin can get a look at a young Clarence while there may still be time to arrange a more reputable Hall of Famer, one who wasn't the first to publish the F-word in a newspaper in Athens, Ohio. Click on any image to make it larger, then use your arrow keys to move through the gallery.