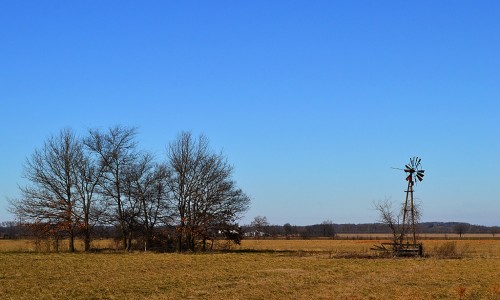 I don't know if this is the Allen Henderson windmill I shot in the spring of 1967 on the Cape side of Delta along 25. There was another windmill missing all its blades about a tenth of a mile down the road that could have been it. (Click on the photos to make them larger.)
The 1967 windmill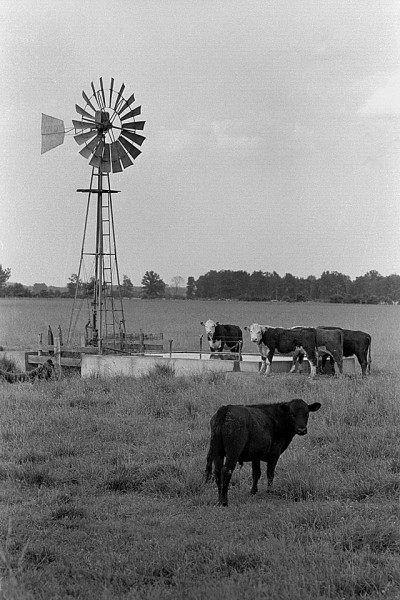 Here's the 1967 photo. You can read more about the Allen Henderson Farm in my 2010 post.
Mother and I cruised down to check on storm damage at Dutchtown – we might have lost a piece of tin off one of the buildings – then we decided to see where the tornado touched down in Delta. The F1 tornado lifted the roof off a brick building, held it in the air over a car wash, then dropped it on a house. It missed all the normal tornado magnets – mobile homes. It could have been a lot worse.
On the way back, I saw the windmill spinning lazily and did a u-turn. There was no shoulder, so I had to park and walk about a quarter mile. The temps were in the 40s for a change, so I worked up a bit of a sweat under my coat on the way out with the wind behind me. The walk back, with a brisk wind in my face, was a bit chillier.
Not happy with the photos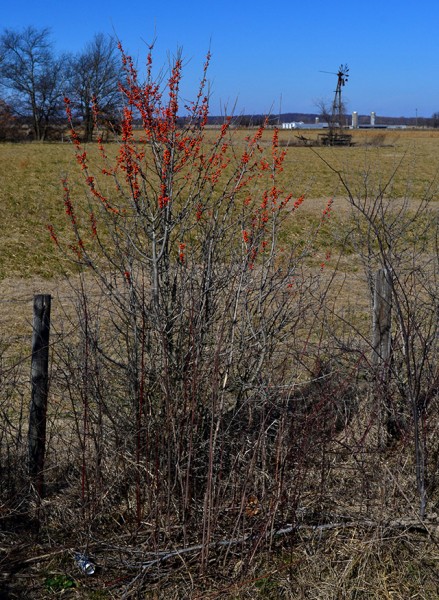 I didn't shoot anything that I liked as well as the 1967 photo. The 18-55mm lens I use on my Nikon D3100 is great because it's light and adequate for most things, but it wasn't the piece of glass I needed today. My first shot was with these red berries in the foreground. They aren't strong enough to carry the picture and the windmill is too small.
Similar shot isn't much better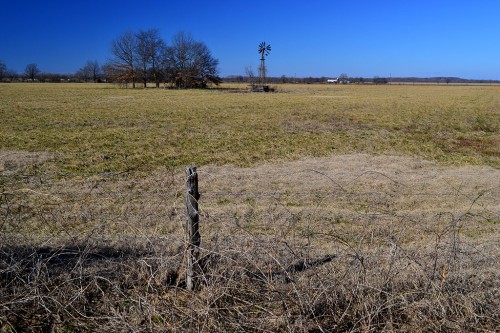 I walked down the fenceline because I liked the tangle of weeds in the foreground, but the composition is still not quite right. If I had moved to the right just a little more, the fence post would have shifted to the left and it would have balanced the windmill better. Focus and depth of field is hard to judge with this lens, too. The focusing ring on the lens is tiny; it's clearly designed for folks who are always going to use it on automatic.
Compositionally, the top shot is the best of the current pictures, but it would have been improved if I could have used a longer telephoto like in the original B&W photo. There are some interesting things happen with that tangle of brush around it that would be worth exploring. Oh, yes, and some cows would have helped.
Maybe I should have just kept on driving instead of doing the u-turn.