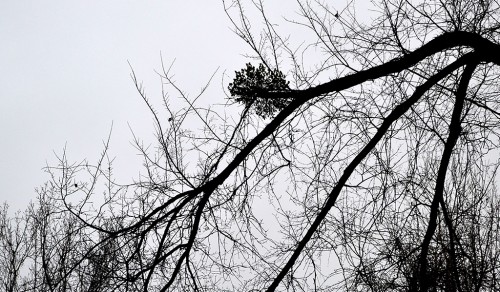 Friend Jan would have fit right in with Lewis and Clark. While she was here, we took a run over to Thebes and Cairo. Along the way, she started spotting huge clusters of mistletoe. I noted that she did NOT suggest we get in close proximity to it, particularly in regards to standing underneath it.
Her keen eyes put her in good stead with Lewis and Clark, who noted in their journal that on November 20, 1803, they were near the confluence of the Ohio and Mississippi Rivers. "They left from mooring on the Ohio side. They went seven miles, and noted much mistletoe hanging from trees. Lewis noted they had seen even more along the Ohio, increasing toward the mouth of the Ohio."
Louis Lorimier had a bad day at the track
Nov. 23 – Stopped at Cape Girardeau to see Commandant Louis Lorimier. He found Lorimier at the racetrack. The race was just over and Lorimier was busy for some time settling disputes about the bets. Lorimier lost four horses on the race, worth $200.
 Actual money was scarce. Main trading was done using such as horses, worth $50-200, cattle $8-10, cotton $100/ton, lead $80/ton. The settlement had begun eight years earlier and now had more than 1,000 people. Lorimier's district went from the Grand Bend of the Mississippi north of the confluence, to Apple Creek which forms the north boundary of Cape Girardeau county, and 60 miles westward to the St. Francois River.
 Cape people "sober, temperate, laborious and honest"
Nov. 24 – Left Cape Girardeau at 7 a.m. A crewman who had left to go hunting two days earlier hailed them from the other shore and they picked him up. He was much fatigued with wandering, and somewhat indisposed.
 "People of Cape Girardeau have uniform character of sober, temperate, laborious and honest. Have erected two grist mills and a saw mill."