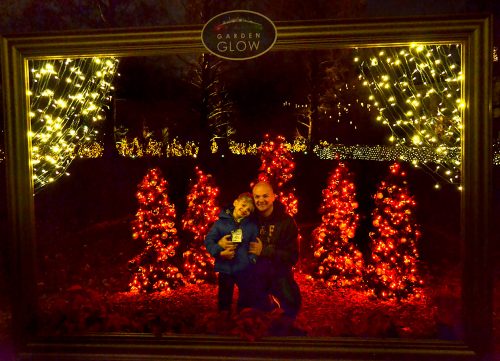 When Son Adam and Grandson Elliot visited St. Louis, it was convenient for us to see the Missouri Botanical Garden Glow because Brother Mark and his wife, Robin, live on Flora Place, right at the edge of the park. It was only about a two-block walk to get to the entrance of the Glow, which promised a million lights.

There were "picture frames" dotted about where you could stand in line to make "art." There was a brisk wind blowing on our way to the display, but it died down to a chilly, but not horrible evening.
Click on any photo to make it larger, then use the arrows on the left and right to scroll through the top three pictures. To see ALL the photos, you'll have to go to the gallery below.
Like a pig in a python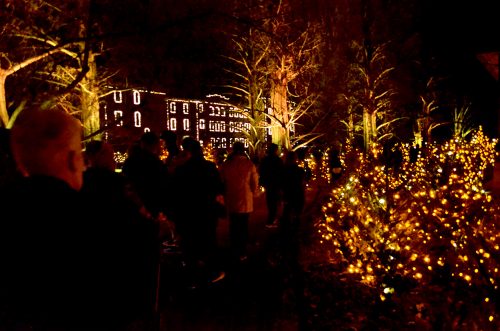 I didn't shoot a lot of photos. The lighting was spectacular, but the crowds were so heavy that I felt like a pig in a python, being inexorably pushed forward.
If you would like to be IN that crowd, the exhibit goes on until January 1. You can get more info on their website.

Colors would change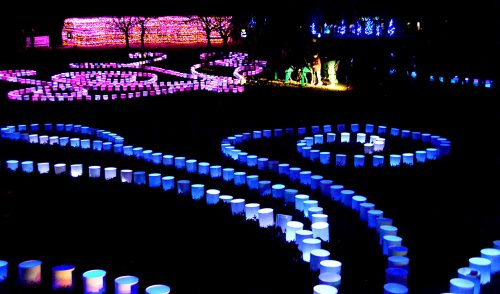 Another challenge was that the lighting was constantly changing colors. You'd get ready to capture one effect, then, just as you were getting ready to press the shutter release, everything would change. That was great for watching, but hard to photograph.

At that point, you could either hope the right combination would cycle back through, or you'd start walking.

Gallery of lighting exhibits

Click on any of the gallery images to make it larger, then click on the left or right side of the picture to move through the gallery.