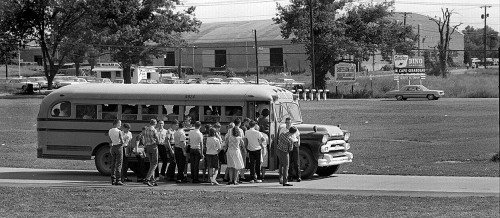 This shot of kids boarding the bus on the south side of Central High School in 1966 has some interesting things in the background. First off, Millikan Car lot is loaded with cars. Griff's Burger Bar is just out of the frame. There's a billboard pitching Suedekum and Son Hardware. The Sinclair Dino gasoline in Cape Girardeau sign is for Huckstep Oil Company.
In the far background you can see students walking home down Caruthers.
Standing room only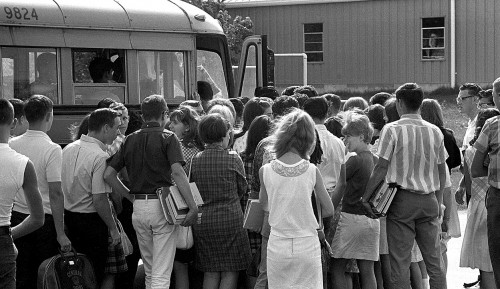 I remember some days that the bus had late riders standing in the aisle, but I didn't think it was THIS crowded. I think the Class of 66 might have been bigger than the Class of 65, so that would explain it.
I didn't mind riding the bus. The driver was a SEMO student picking up some spare money. He was a nice guy; in fact he and his girlfriend would come by the house some evenings and I would help them with their homework and provide them reference materials. I think he was writing some papers on topics we covered in debate.
Bright and early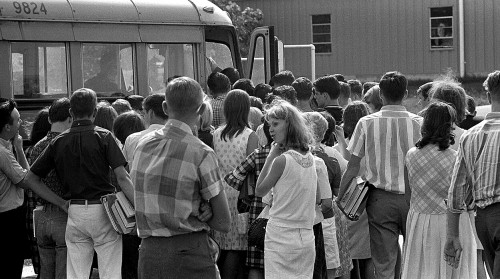 Maybe I'm wrong, but it seems like the bus came by the house at an ungodly hour, like 7 a.m. I had a curious study routine. I found out that if I did my homework before going to bed that I would drag it out and procrastinate for hours.
If, on the other hand, I calculated about how long I thought it would take me to do the homework and got up, leaving just enough time to do it, eat breakfast and get dressed before the bus got there, I could get a decent night's sleep. It was the classic adage of "A task will expand to occupy all of the time available to it." Seeing that deadline marching toward me allowed me to focus on the job, something that I always liked about the news business.
When I moved to North Carolina, I was surprised to see they allowed high school students to be bus drivers. The driver would take his (it was a guy thing) bus home at the end of the route and start out from home at the start of the next day. I think the safety record was amazing. I don't recall ever working a wreck involving a student driver, which is pretty amazing, considering some of the roads they had to go on.