The Road Warriorettes and I needed to kill some time before chowing down at a fish camp in Gastonia, N.C., so we headed over to Belmont Abbey College, which was founded in 1876. I covered stories there for The Gastonia Gazette, but didn't know too much about the college and the most prominent building on campus, the Mary Help of Christians Abbey Basilica. That name is quite a mouthful, so most of the locals just call it "Belmont Abbey."
Stained glass windows won prize in 1893
The church at Belmont Abbey, completed in 1893, was once the only abbey cathedral in the nation. In 1998 it was named a Minor Basilica by Rome, a rare Papal honor. Located on the 650-acre campus of Belmont Abbey College, its beautiful painted-glass windows won a gold prize at the Colombian Exposition in 1893, reports a Gaston County website.
Slaves once sold on stone baptismal font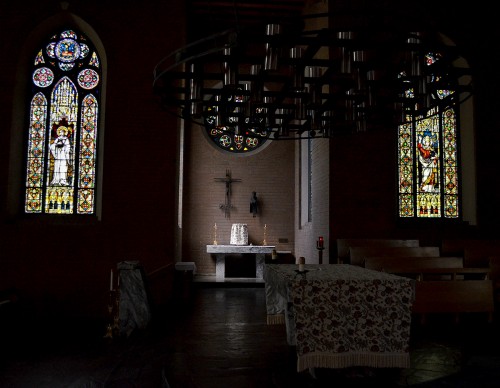 I hadn't read this story when we were at the church, so I didn't know to look for the baptismal font. From the county website: The church contains a stone baptismal font which, according to local legend, was first used by American Indians in the area, and then as a block upon which slaves were sold. When the monks arrived in 1876, they named the monastery "Mariastein" (Mary stone) in recognition of the stone's prominence. Later, after renovation of the church, Abbot Walter Coggin, O.S.B., proposed the adaptation of the stone into a baptismal font. He had it marked with a plaque reading, "Upon this rock, men once were sold into slavery. Now upon this rock, through the waters of Baptism, men become free children of God."
Belmont Abbey photo gallery
The college website says the Abbey Basilica is open throughout the day for prayer and meditation, and visitors are welcome. The monks ask only that "decorum, quiet and reverence of the church be maintained."
Click on any photo to make it larger, then use your arrow keys to move through the gallery.