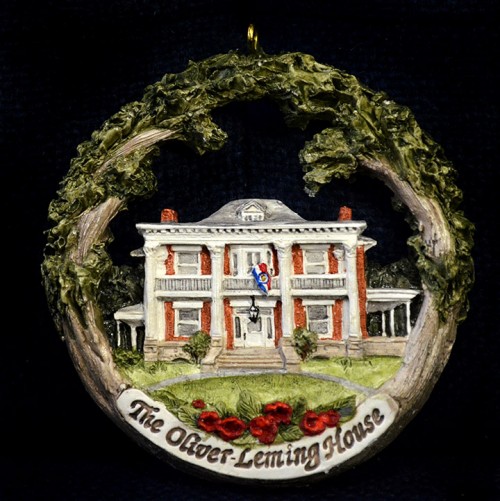 Old Town Cape is carrying on a tradition started in 1997 to produce a Christmas ornament featuring a familiar Cape Girardeau landmark. Here is information from the Old Town Cape website describing this year's ornament.
The 2013 Oliver-Leming House Christmas ornament is available for sale at the Old Town Cape office and other various locations downtown, so get yours before they are gone! It is a limited edition, numbered piece produced by Hestia and is the seventeenth in a series.
 The 100th year anniversary of the Missouri flag was celebrated earlier this year, so we chose to commemorate that by displaying it on this year's ornament. The Missouri flag was designed in 1913 by Marie Watkins Oliver, wife of Sen. R. B. Oliver, at their home at 749 North Street. The home, now called the Oliver-Leming House, is owned by Drs. Bert and Mary Ann Kellerman.
 You can purchase the ornament with a stand for $30 or without a stand for $25. They are available at Bob's Shoe Service, C.P. McGinty Jewelers, Cape Girardeau Convention & Visitors Bureau, Hutson's Fine Furniture, Jayson Jewelers, Knaup Floral, Pastimes Antiques, Philanthropy, Shivelbine's Music, Renaissance, Zickfield's Jewelers and Old Town Cape.
 For more information, please contact us at 573-334-8085 or visit us at 418 Broadway.
 Some earlier ornaments are available
There are some of the older ornaments available. I did ornament stories in 2010 and 2011, so if you see something you like, you could contact the nice folks at Old Town Cape to see if it is still available.
(Speaking of Hutson's display, here are photos I made of the store in 2011)
Tis the season for shameless pitches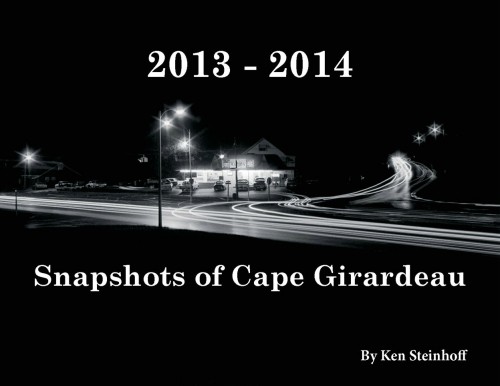 My kids will yell at me if I don't include two shameless pitches:
Travel progress report
Well, I'm not back home in West Palm Beach yet. I tossed and turned last night and have been dragging all day. Part of the reason is that we're in the flatlands now and for the rest of the trip. I REALLY hate boring Interstates. The Groundhog Day effect kicks in and you don't feel like you're getting anywhere.
I shot a couple of lackluster sunset pix, but it would be a waste of electrons to post them. I'm turning in early tonight so I can make the final 433-mile push home Saturday. Traffic was heavier today, and there was a curious mix of tourists wearing shorts in the southbound rest stops .