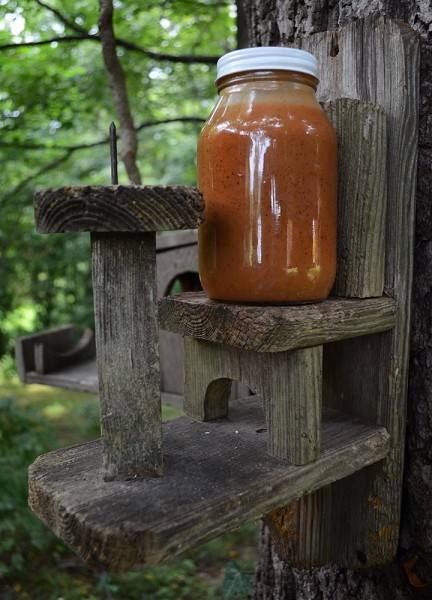 Buddy Terry Hopkins invited me to lunch, then said we were going on a Super Secret Mission. It was so secret that I would have to be blindfolded to keep from seeing our destination. I thought that might be problematic since I was the driver, but Terry was pretty good at hollering "Gee" and "Haw," so we made it around almost all the curves OK.
I think we may have straightened out Snake Hill.
Anyway, we made it to our destination after getting temporarily misplaced a couple of times – we were in an area so remote from civilization that neither of us had cell service and my GPS said, "Why are you asking me? I'm lost, too."
Blue Hole Garden established in 1927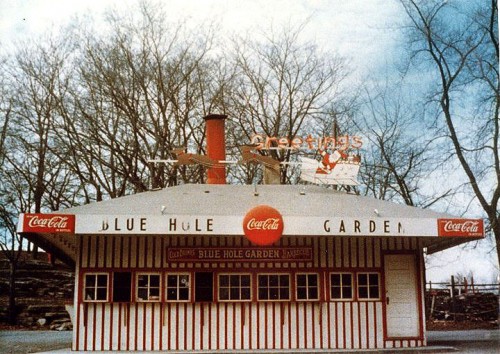 Somewhere in the wilds of Egypt Mills, lives the only person who knows how to make the REAL Blue Hole Garden BBQ Sauce, Barbecue Billie Haupt. She's a descendant of William Franz, who established the landmark Cape restaurant next to the Blue Hole Quarry in 1927.
When Franz sold the restaurant, he sold the recipe for the sauce, but not the steps to MAKE it. That's sort of like giving someone a parts list for a car, but not telling them how to assemble it.
I used to buy bottles of Blue Hole sauce in the store to take back to Florida, but I always thought it looked sort of watery gray instead of a rich red.
It's all in the cooking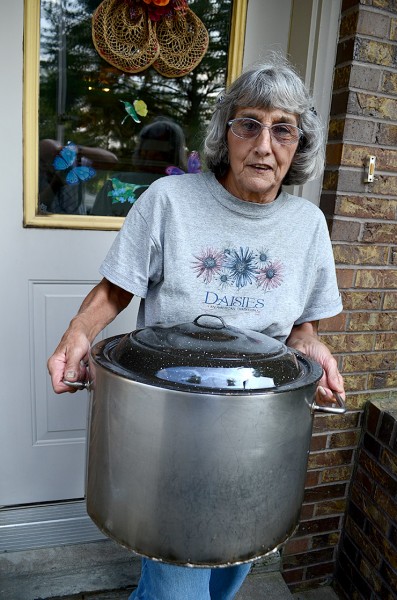 Billie said that watery sauce disappointed long-time Blue Hole fans, which caused stores to discontinue it.
She brews the sauce in this original 4-gallon pot custom-made out of stainless steel (the acid from the tomatoes will eat up other metals). The key she explains, is knowing what ingredients to add when and how long to cook them. The process takes about five hours, about three to cook and two to cool down. It has to be stirred all through the process.
She wouldn't be any more specific. "The secret is staying in the family. If my granddaughter doesn't learn it, it'll die with me."
I made her promise to look both ways before crossing the street until after her granddaughter gets married and she had enough time to learn the family secret.
How can I get some sauce?
You have to pick it up. She doesn't ship.
"Most people arrange to meet me somewhere in Cape, like the K-Mart parking lot." You can also go to the farm where she and Husband Martin live. If you can find it, it's worth going to the source. Terry and I spent more than an hour in their kitchen talking about the Blue Hole, Cape and good eating places. It was one of the highlights of the week.
The sauce – the rich red stuff I remember – is sold for $12 a gallon, $6 a half-gallon and $3 a quart. It contains a tiny bit of preservative, so it should last about a year (if you don't use it all up). Interestingly enough, she says it is better NOT to put it in the refrigerator after it has been opened.
You can place an order for the sauce by calling Billie at 573-334-1944.