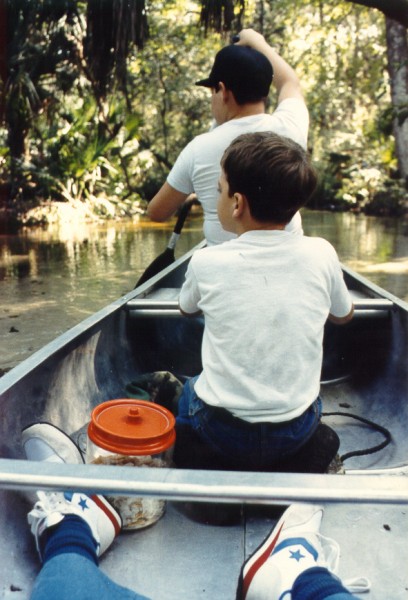 I hardly ever answer the phone at home because the call is never for me. If Wife Lila IS away, when I DO answer it, it's usually "Jennifer" who wants to talk to me about my credit card, "but there's no problem with it." If it's not Jennifer, its a voice that wants to warn me that the FBI reports there is a break-in every X minutes. THAT'S why I don't answer the phone.
So, Wife Lila picks up the phone Friday afternoon, then says, "It's for you."
Son Adam is on the horn: "What are you doing Saturday morning."
I have to perform brain surgery
Flummoxed, I couldn't come up with something like, "I have to perform brain surgery first thing in the morning" or "It's my weekend to go door-to-door distributing rutabagas."
"It doesn't matter, you're retired. You're not doing anything. How would you like to go on a canoe ride"
John Prine has a line in his song, Far From Me, , "Well, a question ain't really a question, if you know the answer too." It's right up there with "How would you like to take out the garbage?"
My job: steer around stumps and gators
I guess I'm going on a canoe ride down the Loxahatchee River Saturday morning. Grandson Graham will be in the middle; Adam will be in the bow. The only good thing is that I am going to be in the stern, ostensibly steering with my Boy Scout-learned J-Stroke. That means I can dope off so long as we don't run into any stumps or alligators.
The picture above was probably the last time I was in a canoe on that river. Son Matt, in the bow, looks like he's about 10ish. That would put Adam a little older than Graham.
If you don't see a post Sunday morning, you'll know the reason why. Send the search team out to look for an alligator with a bulge in his belly and a big smile.