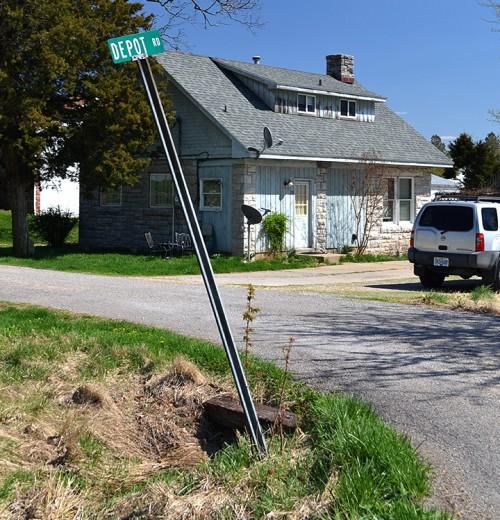 Reader Keith Robinson tipped me off about Fruitland having a railroad depot dating back to the Louis Houck days, but it took me some time to get around to looking for it. After a couple of false starts, I ran across this building that had stonework that looked a lot like the depot and headquarters building on Independence Street near Lorimier School. It was located, appropriately enough, on Depot Road.
I knocked on the door to see if the resident knew the history of the building, but nobody answered.
Remnant of  the Cape Girardeau Northern
I sent a copy of the picture to Keith to confirm that I was at the right place.
He replied, "Yes, that is the old Fruitland depot of the Cape Girardeau Northern. As far as I know the depot was built in either 1905 or 1906 when the Cape Girardeau & Chester (a predecessor Houck railroad) entered Fruitland on the way to St Genevieve. The CG&C failed and the CGN came into being in 1913. It suspended operations in 1919, with the track being removed through Jackson, Fruitland and north in 1920. Houck wanted the Frisco to buy the railroad in 1912 – 1913, but the Frisco went into receivership before that deal could be put together. Had that deal been consummated, the Frisco probably would have developed the line to have a way to avoid the river route during flood times. In that case, the towns along that line may have gotten a boost to develop further."
Keith pointed me to an excellent James Baughn blog in The Missourian that has lots of factoids about Southeast Missouri railroading.