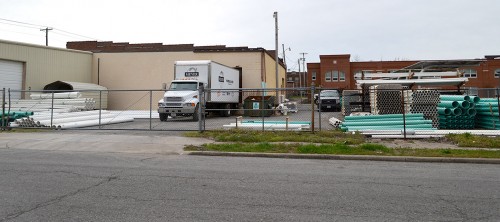 Some days you can't find what you were looking for, and some days you get turned around. I went searching for some addresses listed in The Green Book, only to find all the houses gone. (More about that in a future post).
While I was in the neighborhood, I took a swing by where I thought Martin's Bakery used to be, since so many people have fond memories of it. I thought it was right behind Suedekum Hardware, near the intersection of South Frederick and Good Hope, right about here.
Maybe I was confused because the good smells drifted down the street to where Dad and I could smell them while coming out of the hardware store.
It was at 227 South Frederick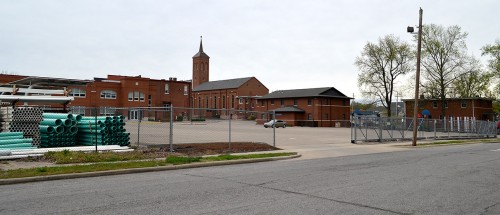 A check of the 1968 City Directory placed it at 227 South Frederick, almost at the end of the block on the right, according to Google Maps.
Wife Lila, when she proofed this, said, "The bakery was a little to the left of the green pipes in the picture. When we lived with my grandmother, we walked to church on Sunday. On the way home, she would stop for something from the bakery." Despite where Google Maps puts it, that's closer to where I remember.
There were surprisingly few references to it in The Missourian.
There was one line in a Sharon Sanders blog about Cape construction in the 1940s that said Gebhard Martin built a one-story bakery at that address in 1948.
Gebhard Martin
The February 26, 1981, Bulletin-Journal carried Mr. Martin's obituary. He was born Oct. 30, 1907, at Eigeltingen, Germany, son of Mr. and Mrs. Edward Martin. He was 73 when he died. He and the former Virginia Hoffer were married July 10, 1938, here. He came to the United States in 1929.
He worked at Illmo and with the Bauer Bakery prior to operating his own bakery at 227 South Frederick for 23 years. He was a member of St. Mary's Cathedral.
Survivors include his wife; three sons, Gilbert Martin of Cape, Charles Martin of Columbia, Ill., Jerome Martin of Carlinville, Ill.; a daughter, Mrs. Annie Pluth of St. Louis; a brother and four sisters in Germany, and 10 grandchildren.
Martin's Bakery in Illmo
Most of the references I found while searching for "Martin's Bakery" went back to one in Illmo owned by "Gebb" Martin. The May 26, 1930, Missourian front page has a big story about a $50,000 fire that destroyed the Lightner building, which housed a movie theater with an interior designed to look like a river showboat; the Martin Bakery, and a residence.
I'm assuming that's the same Illmo bakery mentioned in the obit, although if he arrived in this country in 1929, it didn't take him long to establish a bakery that burned the next year.
Missourian copy editor Bill Meston would have sent that back for the reporter for clarification.