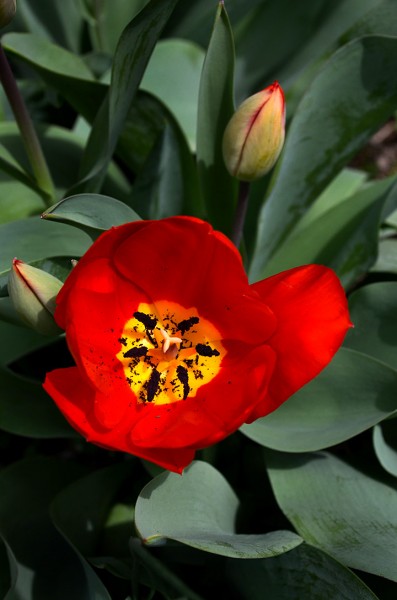 I posted to Facebook last night that it was going to feel strange waking up at 1618 Kingsway Drive and not having a plastic or real Easter egg waiting for me to find.
After sleeping uncharacteristically late, even by my standards, I eventually had to get the day going.
While the bacon was frying, I slipped out the car to pick up something. When I walked back to the house, this is what was waiting in the flowerbed next to the front door.
Last fall, I did a post on finding The Last Rose of Summer. I felt better seeing The First Tulip of Spring.
What's the pink thing?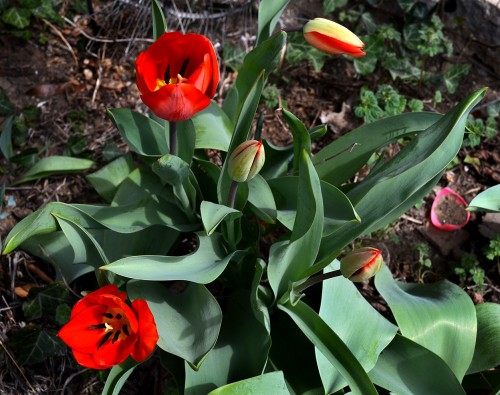 While I was trying to figure out how to best compose the tulip picture, I saw something pink on the right-hand side of the frame. What is that?
It was a long-lost Easter egg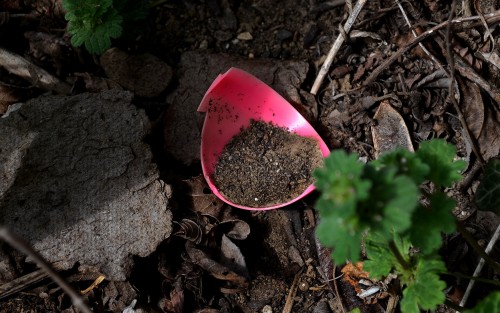 When I got closer to it, it turned out to be a broken piece of an ancient Easter egg. No telling how long that had been hiding waiting for me to find it one last time.
Remembering Dad and Mother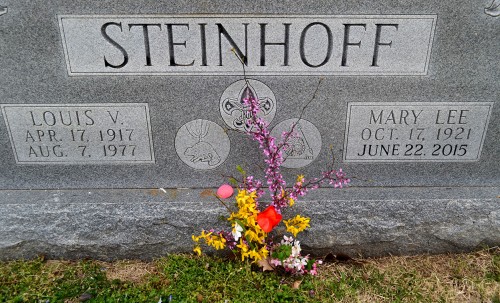 Mother was religious about decorating the graves of relatives in tiny rural cemeteries scattered all over Cape and Stoddard counties. One of her concerns was who would remember them after she was gone.
I decided that the tulip, some cuttings from the flowering trees and bushes from the yard and the old Easter egg would show I hadn't forgotten. I can scratch flower arranger off my list of possible vocations, but I hope the thought counts.
Lila's Mother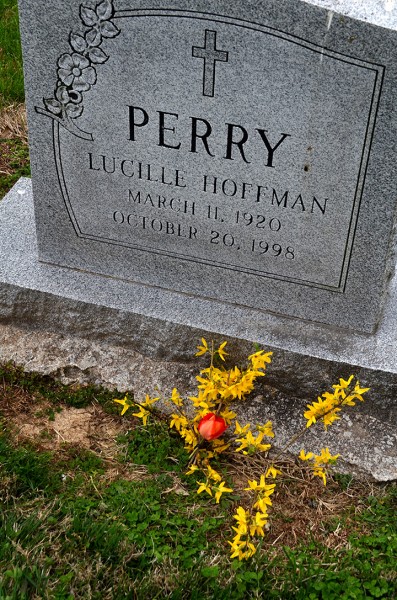 The next stop was St. Mary's Cemetery to mark Wife Lila's Mother's grave.
Ray and Rose Mary Seyer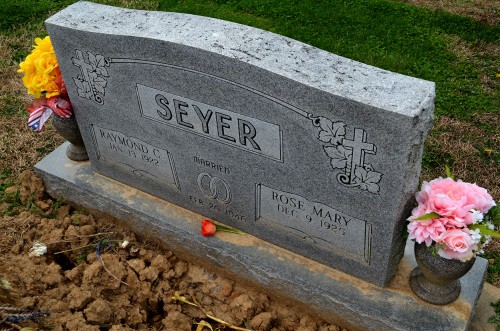 Just around the corner from Lucille Perry is the stone for Lila's Uncle and Aunt, Ray and Rose Mary Seyer. They died so recently their stone hasn't been engraved with their death dates, and the Missouri clay hasn't settled and been covered with grass yet.
The couple were like father and mother to Lila, I could have listened to Ray spin yarns about growing up in Swampeast Missouri. They were good folks.
Rose Mary died October 31 of last year, and Ray followed March 17, 2016. Maybe Mother's yard will have enough flowers that I can leave more than a single tulip the next time I visit.