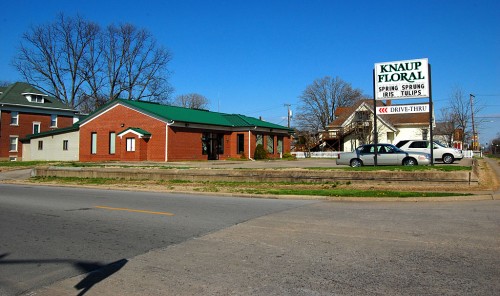 While waiting for my order to come up in the takeout window of Hamburger Express, I looked at the corner of Pacific and William and thought something had changed. Indeed, the old greenhouses of Knaup Floral were gone. Now that I think of it, they've been gone a long time, but this is the first time I flashed on them. Click on any photo to make it larger.
Here's a real greenhouse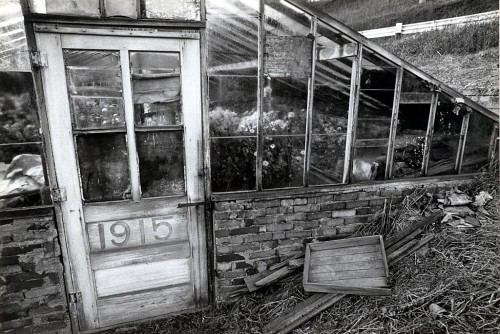 No, this wasn't shot in Cape. I couldn't put my hands on a local greenhouse, so I reached into my stash of photos from Shawnee, Ohio, a dying little coal town, for this one.
Cape Florists in 1969
The 1969 City Directory lists the following Florists
Carver Floral Co., 100 S. Sprigg St.
Drive-In Florist, Perryville Rd. and Cape Rock Dr.
Hazel's Flowers and Gifts, 1030 Broadway St.
Knaup's Floral and Greenhouses, S. Pacific and William Sts.
Ochs Floral Co., 1110 W. Cape Rock Dr.
Wife Lila noted that "The florist who did our wedding flowers was Carver's. It's called Flowers by Joyce now. Anytime I need flowers for Cape, they are who I call.  We had an account there from the time we got married, but now I pay with a credit card. Don't know if that tidbit will help, but I'll pass it along." [Editor's note: that is an unpaid endorsement. If Flowers by Joyce would like to make it a PAID one, I wouldn't object.]
Did Kanups live in house?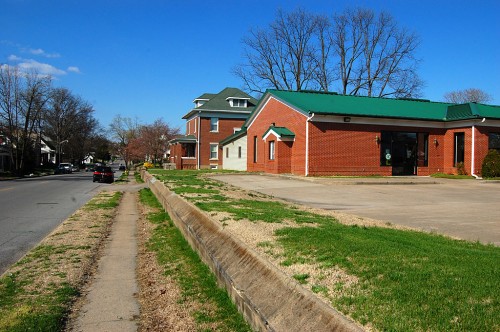 Mother seemed to remember that some of the Knaup family lived in the three-story brick house just north of the greenhouses. A quick peek at the City Directory shows the following listed in that block of S. Pacific:
136 S. Pacific St. – Knaup Floral & Greenhouses (John Knaup)
134A S. Pacific St. – Richard J. Knaup
I didn't check the house number when I shot it, unfortunately.
Interesting rock accents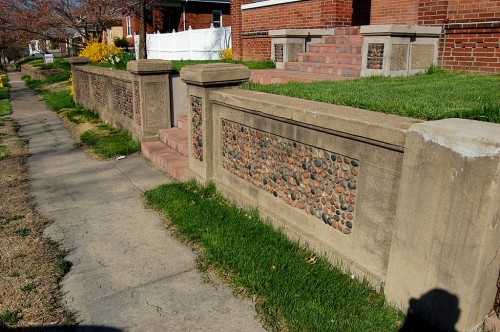 The inlaid rocks in the wall and the front step caught my eye.
In business since 1910
A Nov. 13, 1931, Missourian obituary gives an indication of what a Cape landmark business Knaup's has been. "Mrs. Mary M. Knaup, 65 years old, wife of Wm. Knaup and a lifelong resident of Cape Girardeau, died Thursday at the family home, 118 S. Pacific St. Born in Cape Girardeau Dec. 15, 1865, Mrs. Knaup was a daughter of Mr. and Mrs. Frank Frelinghaus, pioneer immigrants from Germany. Here early schooling was received in St. Mary's parochial school.
"On Nov. 22, 1895, she was married to Wm. Knaup, who, since 1910, has been engaged in the floral business and is now assisted by a son, John. Previous to entering into the floral business, Knaup was engaged in cooperage manufacturing.