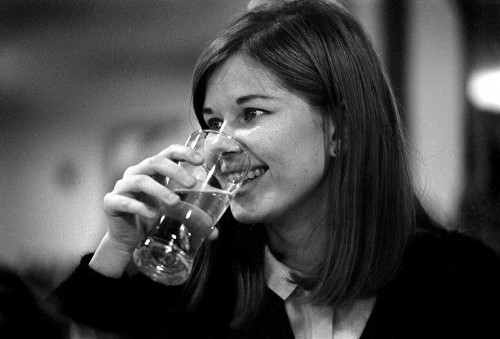 Curator Jessica called to ask if she could use one of my photos to promote the Athens Country Historical Society & Museum's Historic Tavern Tours this week. It's all part of the 9th Annual Ohio Brew Week Festival, not that university students need any excuse to quaff beer. [Miz Jessica explained to me later I was wrong. Brew Week was cooked up to help the bars out during the slow summer season when the student population drops off.]
Kenny Kerr pours the beers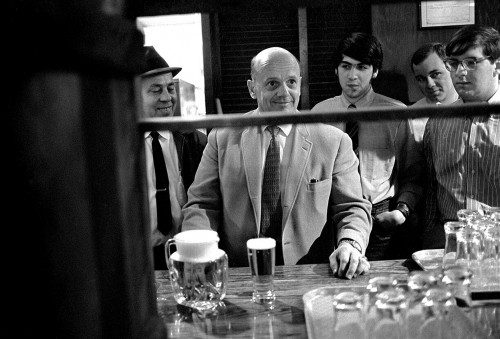 It was a chilly February day in 1969 when Kenny Kerr (the guy with the shiny hairdo) of Kerr Distrubuting poured the first beers to be served in Ohio University's Ohio Room in Baker Center.
You had your choice of Stroh's, Stroh's or Stroh's. And, it was low-test 3.2 beer. Low-point beer, as it is more accurately called, is a beer that contains 3.2% alcohol by weight.
Since it could be sold to 18-year-olds, it eliminated having to determine if a drinker was 18 or 21. I don't think I ever saw anyone carded at the Ohio Room, probably because most college students were at least 18.
Theory about binge drinking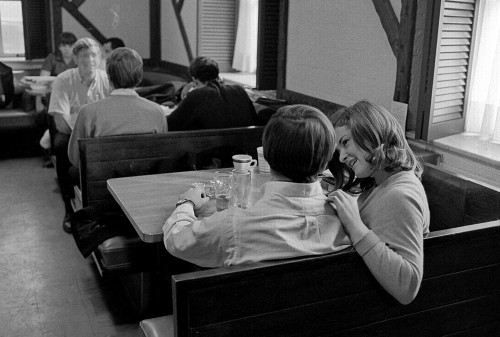 When I was in Athens over Halloween, I debated going uptown to shoot the costumed pub crawl festivities, but opted out because (a) it was cold, (b) parking was a problem and (c) one of the OU Post's former editors from my era said, "I got tired of having my shoes puked on."
He went on to explain that we lived in a different era: we didn't have any money in 1969. Students would pool their cash with a few friends, head over to the Ohio Room for a couple of pitchers of 3.2 beer, do some socializing, then go home. Now it's all about large quantities of booze, he said, and the streets are filled with inebriated students engaged in inappropriate behavior, some of which finds its way onto the Internet.
 Pouring beer like water
Here's a gallery of photos of the day when Stroh's beer poured like water – and according to some purists – tasted about the same. Stroh's, by the way, had an interesting history. It started as a regional beer, then ended up as the third largest brewer in the country. It even marketed a Stroh's ice cream. A whole bunch of market changes caused problems for the company, though, and in 1999, after being in business for 149 years, it sold its labels to Pabst Brewing Company and Miller Brewing Company.
Click on any photo to make it larger, then use your arrow keys to move through the gallery.