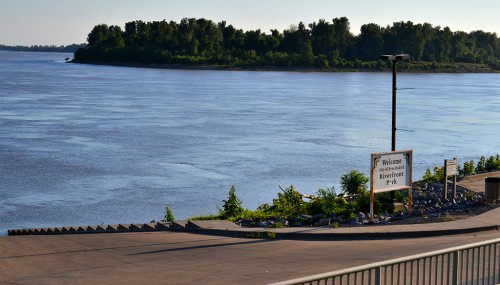 Mother and I drove down to the Mississippi Mudd in New Madrid for dinner. She likes frog legs and they are reputed to have big ones (the reputation is deserved). I had a hamburger steak with bacon wrapped around it and covered with some great grilled onions and peppers that added flavor to the meat.
It was getting late in the afternoon, so we took a drive up on the levee and down to the waterfront where I shot the baptism in 1967.
Lined with walkways
Cape's riverfront has a nice walkway that has been extended recently, but I really like the high overlook you get from this arrangement. Another nice thing is that you could watch the river when it gets high, unlike at Cape, which has to close the floodgates. I bet the view of a flooding Mississippi is spectacular from the long pier in the background.
Look at the cat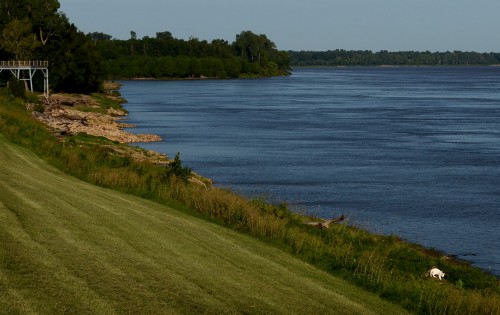 I got out of the car with a medium length zoom, figuring all I was going to take was an overall photo. A piece of paper blowing in the wind near the water's edge caught my eye. I looked at it for a few more seconds, then turned to go back for the body with the longer telephone lens so I could shoot this white cat in the lower right part of the frame. I don't know what he was hunting, but he was working hard at it.
Click on the photo to make it larger.
Strange stone structure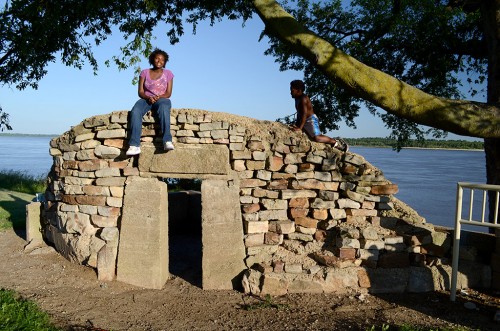 I heard childish voices coming from this stone structure. Kaceja Thomas, who is a high school freshman, didn't know if it had any special significance or if it was just a neat place to play. Her brother who claimed to be 7 didn't slow down enough for me to get a good photo of him. For the record, Sis said, "You're not 7, you're 6. I should know. You're my brother."
I'm textually inept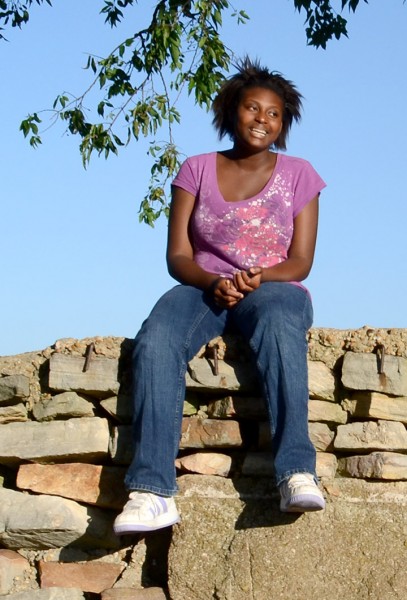 I printing this cropped version of Ms. Thomas because I told her she could go to the library to see her photo this morning. She gave me her cellphone number, but I'm not exactly sure how to transfer my digital camera photos to her. I can think of a convoluted way to do it, but I really need a 10-year-old kid to show me a simpler way.
Project cost  $4.1 million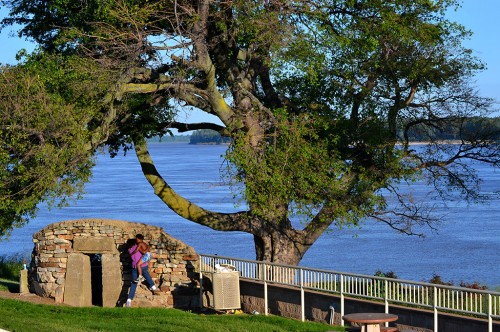 A 2001 Missourian story said the riverfront park and levee improvements cost $4.1 million. The project wasn't just to make a pretty park. City officials said large rocks which kept the levee from eroding made upkeep difficult. Filling in the rocks with dirt and planting grass over them made the area easier to mow.
The plan was to build a lighted walking path with benches for seating and improved parking, tables for public use and amphitheater seating in the Riverfront Park. The boat ramp and boat parking were to be improved also. It looks like mission accomplished to me.
I wish Cape had a park where tourists – and locals – could get a gander at the river without leaving their cars. New Madrid has done it right.