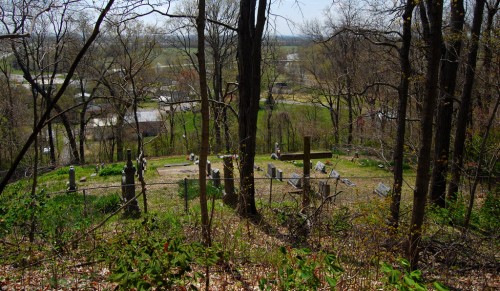 There's an old cemetery atop a ridge overlooking Dutchtown that I feel compelled to visit every time I come to Cape. There's no particular reason to go up there. We have no family buried there. I've never followed a hearse up the steep, narrow road to the burying ground, but something calls me.
Cemetery over 125 years old in 1967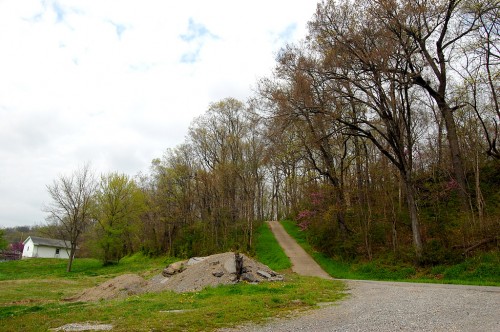 A Missourian story about the closing of Dutchtown's St. Edward's Catholic Church said the cemetery was more than 125 years old in 1967. That would put it between 175 and 200 years old today. I'm going to take that with a tiny grain of salt.
The cemetery was located on the hill because much of the surrounding land was swamp.
The first St. Edward's, a frame building, was built in 1898, but burned January 29, 1928. The first mass in church that served the community for 69 years was offered in 1928. A nationwide shortage of priests was given as the reason for the 1967 closure.
You can see the steeple of the church in the background of a Frony photo of Dutchtown that Fred Lynch used in his blog. Librarian Sharon Sanders has two stories about the church in her column.
Coffins carried at shoulder level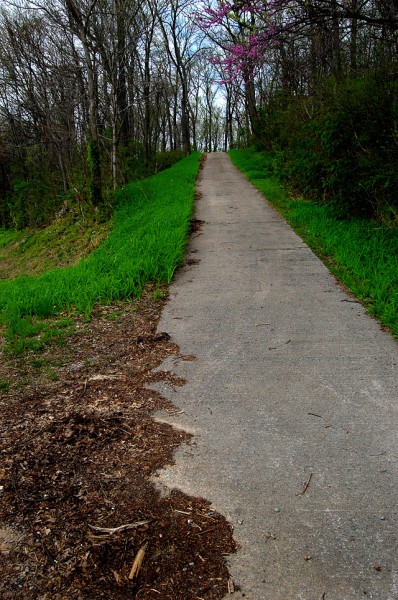 The Missourian story said parishioners recalled seeing pallbearers. sometimes walking in the rain, bearing coffins at shoulder level up this steep hill. It's paved these days, but it's still a tough pull in my car. I'd hate to think of carrying a coffin up there. [I was trying to figure out whether "coffin" or "casket" was the correct term and have to admit I didn't know the difference. A coffin, I found, is defined as a funerary box with six sides, generally tapered around the shoulders; a casket is generally four-sided.]
Photographed for years and different seasons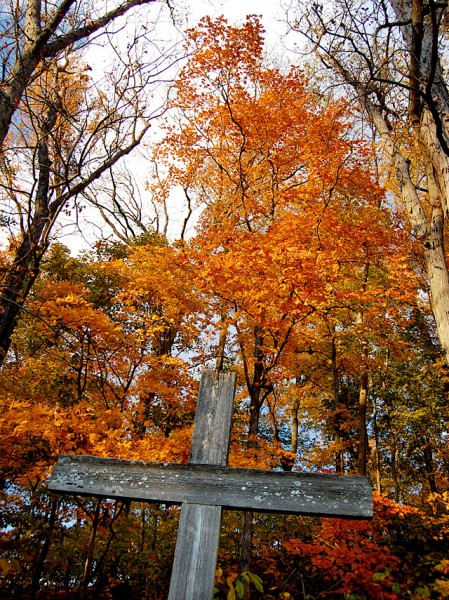 These photos were taken over several years and in different seasons. This was taken Oct. 27, 2011.
Cemetery well-maintained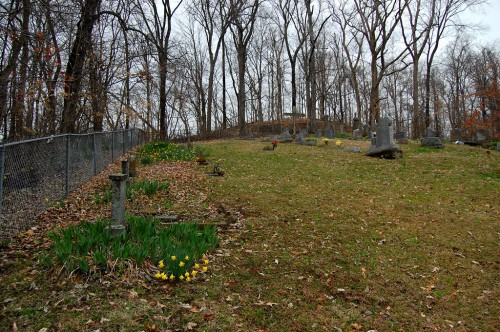 The fenced part of the cemetery is well-maintained.
Path leads to ridge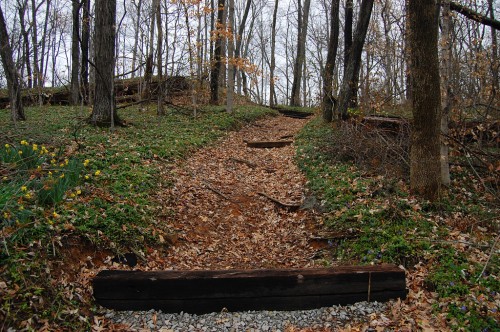 At the top of the narrow road is a small space just barely big enough to turn around. If you walk to your right up the hill and through a gate, you enter the fenced-in cemetery. If you go straight up, you're taken to a trail that runs along the ridge. That's the part I find most fascinating.
Tombstones scattered all over hill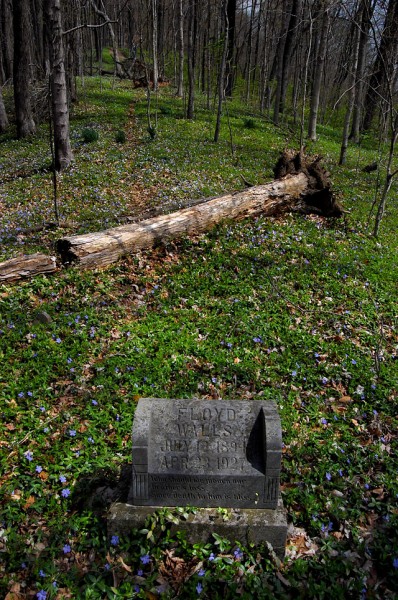 As you walk along the ridge, you encounter a dozen or more tombstones scattered apparently randomly all over the hillside. Some of them are large; some of them mark the final resting places of whole families. It's daunting enough to think of getting a coffin up there; I don't know what kind of effort it would take to haul a tombstone weighing several hundreds of pounds that high.
Markers from before 1900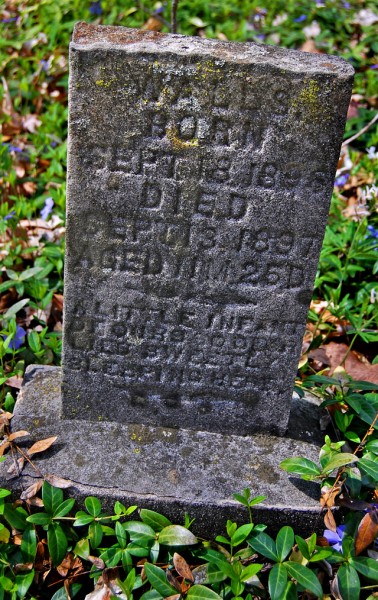 One small stone marks the grave of an infant who was born in 1896 and died "aged 11 M 25 D." The inscription reads, "A little infant of ours so dear lies sweetly sleeping here."
Find A Grave has some information
The website Find A Grave has some information about the site. It lists two "famous" internments:
John Lockee – a member of Company H for the Illinois Artillery. He was killed in the Civil War.
L. Jackson Summerlin – born 1845, died 1916. His property became what is known as Dutchtown Cemetery. His family plot is one that sits outside the fenced area.
Here is a partial list of other internments from Find A Grave. Here's a more complete list compiled by an individual.
Photo gallery of Dutchtown cemetery
Click on any photo to make it larger, then click on the left or right side to move through the gallery. Please chime in if you know anything about the place. I haven't found much information on it.