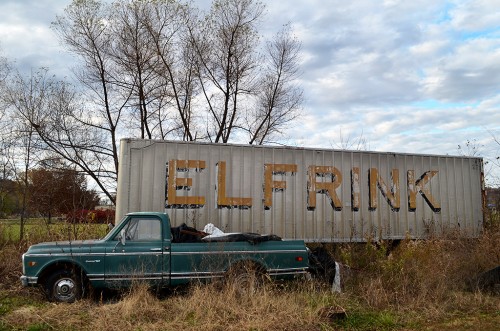 I did a U-turn when I spotted this old Elfrink Truck Line trailer off the road outside Marble Hill.
Actually, I did an O-turn. I passed it on my way to shoot something else, remarked to Mother that I wanted to take a picture of it on our way back, then overshot it, requiring me to make a second U-turn. (You can click on the photos to make them larger.)
Elfrink a big name on the road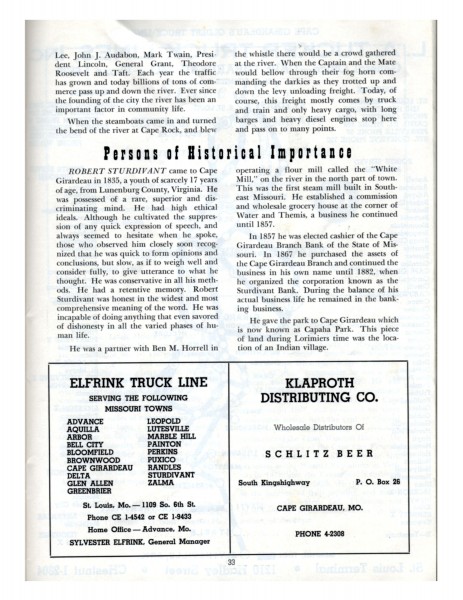 This ad in Cape's 1956 Sesquicentennial book lists the towns serviced by the truck line.
Long-time employees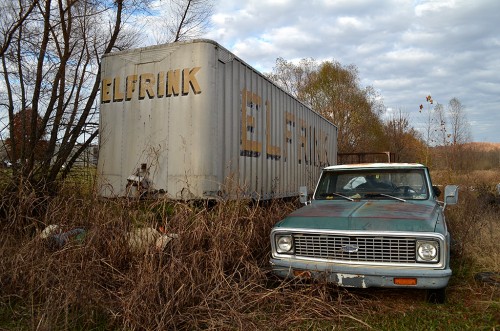 A quick Google search didn't turn up much useful history about the company. The trailer's owner said he thought the company closed its doors in the early 90s when the drivers wanted to unionize. I didn't see any stories that supported or contested that view.
The company was still in business Feb. 8, 1987, when it took out a Missourian ad congratulating the Boy Scouts for being around 77 years.
Here are some obits of employees who had been with Elfrink.
UPDATE to story
A reader provided this tidbit from the Aug. 30, 1993, Missourian:  "Elfrink Truck Lines, headquartered at Advance, has been sold. Wintz Freightways Inc. of St. Paul, Minn., recently announced purchase of the 50-year-old Elfrink company. "Service will remain the same and customers probably won't notice any change," said Steve Elfrink from the Advance office. Wintz, in a wire-service report, said the purchase included assets of 300 trailers and the terminal network. Several of the Elfrink employees will be retained, the report said. Wintz operates 22 terminals in 14 states."
Another point of interest: two folks have asked where they can find the pickup truck in the photo. I'm sorry I didn't get the name of the business where it was parked, but it's near Marble Hill on 34 west of Main street about halfway to Woodland School. If anyone gets the name of the place, let me know and I'll add it to the story. A bunch of nice guys work there.