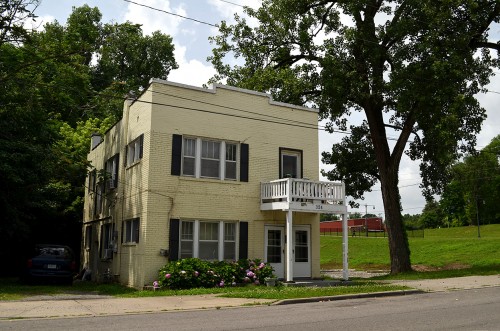 I've always wondered about this house at 324 William Street. It was right on the border of Happy Hollow and just down the street from Louis Houck's railroad overpasses. It's nice to see that it looks like it has been spiffed up a bit lately.
Not much in the paper
A quick search of The Missourian's archives didn't turn up much. There have been some minor police blotter entries in recent years, but these are the only two stories I could find from "back when."
July 6, 1937 – Mr. and Mrs. J.E. Fox and Mr. and Mrs. Harry Converse of Granite City, Ill., spent the weekend with Mr. and Mrs. Jimmie Seabaugh and Mr. and Mrs. Roy Eifert, 324 William Street. They came Saturday and returned Monday night. Mr. and Mrs. Fox and Mr. and Mrs. Seabaugh together celebrated wedding anniversaries Monday, the former having been married one month, and the latter, one year. Before her marriage, Mrs. Fox was Miss Arline Chippio of Granite City. Mrs. Seabaugh was formerly Miss Golda McCart of this city.
August 6, 1945 – Mr. and Mrs. Stein Hinton of Flint, Mich., arrived Saturday to spend two weeks with his mother, Mrs. H. H. Hinton, 22 North Lorimier street, and her sisters, Mrs. Lester Groves, 324 William street, and Mrs. Richard Hargraves of Sturdivant, and her brother, Jack Morton of Advance.