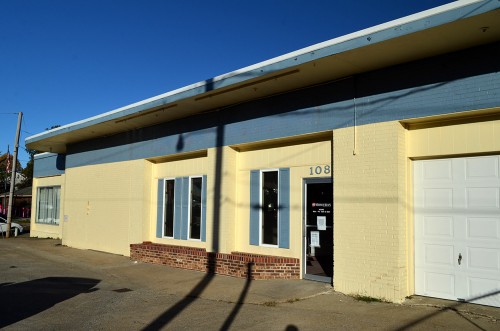 When I drove past this building one day, it said Southeast Missourian. A few days later, the sign was gone and the Jackson bureau office was closed for good. When I competed with Missourian reporter Bob Todd in my old Jackson Pioneer days, and filled in for him when I started working for the Cape paper, the office was in a tiny building where the Cape County Archive Center is today.
We filed our stories on a 110-baud Teletype that looked like this. Everything you typed showed up on a companion machine in the Cape newsroom. It printed in all caps, there was no backspace, and you had to type in a slow rhythm to keep from going faster than the machine could handle.
One of my jobs at The Pioneer, a paper with more characters than character, was to plagiarize Bob Todd's county commission meeting reports. I still think my rewrites were better than his originals, even if I didn't copy his signature transition phrase, "In other business…."
How to outfox the competition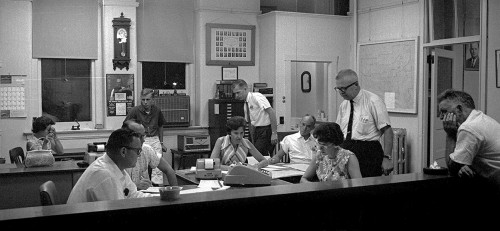 I could have sworn I had told this story before, but I couldn't find it in the archives. Anyway, it might explain why I was able to make the transition from the newsroom to telecommunications late in my career.
On Election Day 1964, Jackson Pioneer Publisher John Hoffman told me I had better be wearing running shoes because "Bob Todd keeps the only pay phone nailed up, and you'll be running back and forth from the courthouse with election returns all night."
I gave that some thought, and toward the end of the business day, I went to that pay phone, took the receiver off the hook, and put a sign on it that read, "Phone Out of Order. Has Been Reported to Phone Company." My theory was that since it was late in the day, nobody would bother to call Ma Bell, particularly since someone else had already done it.
When the returns started trickling in, Bob sauntered up to the phone with a bunch of results in his hand, glad to see it unoccupied, then his shoulders slumped when he read the sign. I let him contemplate it for a minute, then I stepped up, hit the phone's hookswitch, dropped a dime and called The Pioneer. When I hung up, I told him what I had done, and we agreed to share the phone for the rest of the night.
Victim of the roundabout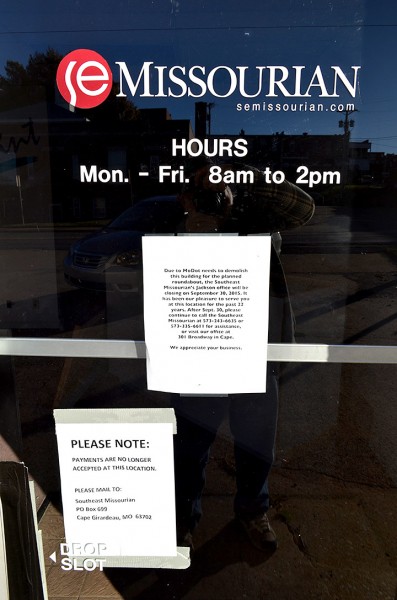 A sign on the door read, "Due to MoDot needs to demolish this building for the planned roundabout, the Southeast Missourian's Jackson office will be closing September 30, 2015. It has been our pleasure to serve you at this location for the past 22 years. After September 30, please continue to call the Southeast Missourian at 573-243-6635 of 573-335-5611 for assistance, or visit our office at 301 Broadway in Cape."
A Missourian story (not written by Bob Todd) reported that the DOT has acquired the right-of-way from all but one property owner. This is a different location than the roundabout that would have wiped out Jackson's Hanging Tree and a good part of the courthouse lawn.