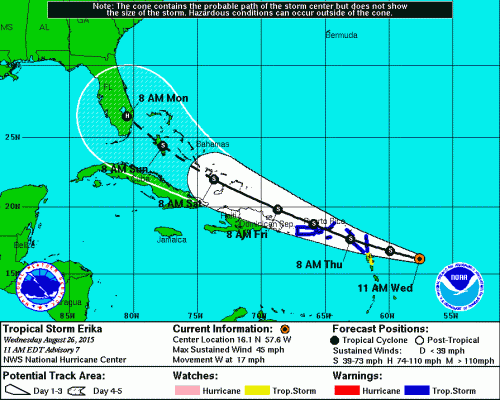 I wasn't much concerned about Hurricane Danny. Every model predicted unfavorable conditions that would inhibit development. Hurricane Erika had a bad feel about it, though. She was following Danny like a girl hoping be noticed at prom time.
I particularly didn't like Wednesday's 11 A.M. track that showed the center of the cone knocking on our back door. The only problem was that different models said it would dissipate before it got to us, would swerve north to spin fish in the middle of the Atlantic or would come out of the Bahamas as a piddling Cat 1 storm, with the potential of cranking up to a Cat 2.
Before you dismiss my "piddling" Cat 1 hurricane, imagine yourself in the back of a pickup truck going 75 miles per hour. Now imagine yourself trying to hold up a 4×8 sheet of plywood while being blasted by a firehose.
Wife Lila and Kid Matt have been trying to talk me out of coming home. They both subscribed to the No Big Deal models, and Matt said he'd put up the storm panels if I wasn't there.
This looks a little better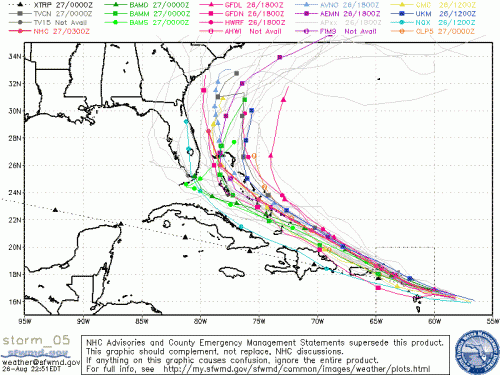 The model spaghetti is beginning to favor a northward turn before it gets to the coast of Florida. The state will probably get some much-needed rain, but be spared high winds. If the 11 A.M. Thursday advisory keeps the turn, looks like Cape is going to have to put up with me a little longer.
I've seen a few storms
We had four hurricanes pass over us in the 2004-2005 season. Here's an account of Frances.
Here are some good disaster preparedness tips that are useful even if you aren't in a hurricane area. I chased 13 hurricanes and had more than half that many chase me. Experience is a good teacher.