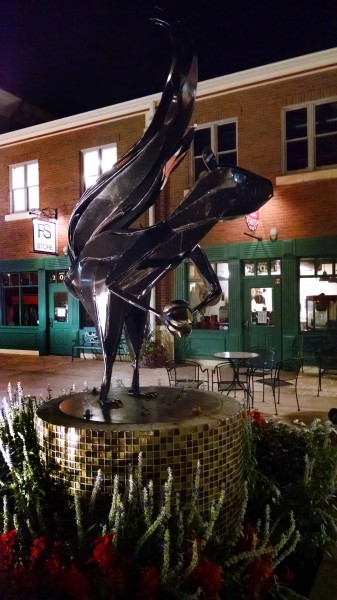 I think I'm going to stop letting Road Warriorettes pick the motel rooms. Remember the problems I had with Friend Shari?
Curator Jessica and I took a road trip from Athens to Kent, Ohio, Sunday so we could meet some museum folks in Kent and Massillon. We had a great drive with many stops and diversions that'll show up in posts in the future.
Curator Jessica reads the reviews
About two hours south of Kent, I pulled into a parking lot while she researched motels. When I heard her discount this one because of bloody sheets and another one because it had more #1 ratings than #5 ratings, it looked like it was going to take awhile. I told her to wake me up when she had made a choice.
She booked us two rooms in the Clarion Inn and Conference Center in Hudson, about 30 minutes from where we have to  be on Monday morning. Then, we made arrangements to meet one of her friends for one of the best pizzas I've ever had.
Internet doesn't need password
When we got to the front desk, I asked about the internet connection. I was assured that it didn't need a password, just connect and go.
My tablet connected fine and dropped me into a screen where I agreed to something or another, and I was on my way.
The laptop I use to do the blog would connect and it would tell me that I should click HERE to open my browser (presumably to get the OK screen). No go. I tried everything I could think of: connecting, disconnecting, reconnecting, changing browsers, disabling Adblock Plus, etc. Finally, I called the front desk. Gal says to reboot my computer. Oh, yeah, I would NEVER have thought of THAT.
I tried the reboot and all the other stuff, then called the desk again. Guy answers and tells me he can give me an 800-number for tech support. I didn't rent a room from some third-party tech support company, I rented it from Clarion Inn and Conference Center, but I say "Give me the number."  While he's searching for the number, I hear loud banging in the hallway. I figure somebody can't get a door open or closed.
Router is busticated
Guy comes back on the phone and says that due to the recent storms in the area, they are having problems with the router that serves the 140-numbered rooms. He'll move me to another room if he can.
"It's 11:17. I have everything unpacked and spread around, I have at least an hour's worth of work to do if I start right now, and I'm sitting here in my underwear. I don't think you want me to go walking down the hall like that. When I check into a motel chain that is supposed to cater to business users, I expect to be able to use the internet."
While I'm on the phone, Curator Jessica sends me a text: "Wow, there is a small drama going on in the hallway next to your room. This night just gets better." She calls the front desk to report the disturbance.
Desk Guy wishes me a good night
Yeah, like THAT is going to happen.
Tumult outside my door gets louder, with much cussing and banging. I cautiously peek around the door and see a woman with enough tattoos to rival a map of Ohio striding down the hallway screaming, "I'm going to call the cops on everybody in this hall."
Jessica texts an offer to bring over her pepper spray to protect me if I need it. She's full of late-night help and information like her text moments before midnight, "Somebody on Facebook told me that today is National Go Topless Day. If it was on Facebook, it must be true, right?"
OK, it's been 30 minutes of quiet. Now I hear door pecking, then banging again. Map-looking woman is there with two cops (or uniformed security guys, I didn't look closely) and they are trying to get someone in Room 145 to open up. (I'm in 143.)
Maybe Jessica should have picked the motel with the bloody sheets.
Oh, yeah, the squirrel
I guess you are wondering about the picture at the top of the page. It's a sculpture of a black squirrel in Acorn Alley in downtown Kent. Here is the background about the black fuzzy-tailed rodents and how they got to town.
UPDATE
I had an early morning call from the manager of the hotel who had see my post on Facebook. After a discussion, she agreed to comp the room because of the inconvenience. She also said she would encourage the staff to check for log entries that might indicate that a room wasn't up to snuff.
We both agreed that the hotel had no control over unruly guests. I'm pretty sure she was talking about the drunk woman in the next room who was banging on doors and hollering, not me, but I'm not positive.
Neither of us could turn back the clock to undo the problems of the previous night, but I was pleased that she reached out for me so quickly. Nice save.