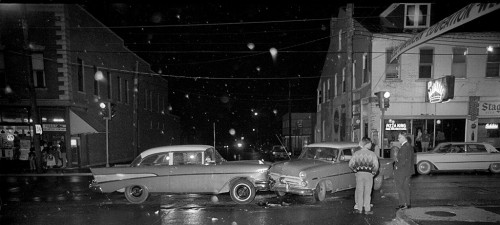 For a second I thought this was the same crash at Pacific and Broadway I had already covered, but it was definitely a different one. One of the things I found interesting was that it captured the Pizza King, which was once the Last Chance – First Chance Saloon.
Vandeven Mercantile is on the left.
View east on Broadway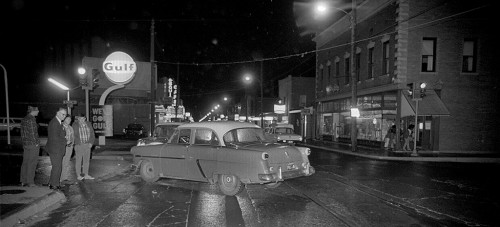 Vandeven's is on the right. You can see The Esquire, Wayne's Grill, Radonics, Bodines and other lighted signs. This picture must have been taken later than the one below because the sign above proclaims "We've Gone Gulf."
The old trolley tracks are visible in the middle of the street.
Station had been Cities Service

The station on the northeast corner of the intersection had been a Cities Service. Looks like the Bourbon billboard had been allowed to go blank in the later photo.
Howard's on right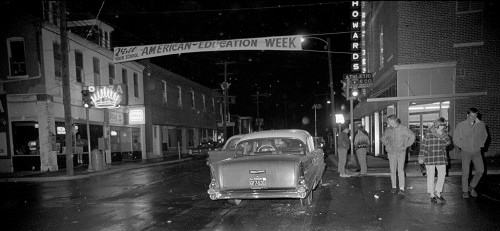 The old Howard's Athletic Goods was on the right. Howard's moved into the Vandeven building in 2009, then SEMO tore down the old (ugly) landmark building for a parking lot.
View to the north

Howard's is on the left and the Gulf station is on the right. It's warm enough that people are wearing light jackets, but I see the car on the left is still running snow tires. The banner mentions American Education Week, which is traditionally held in November, so it might be a warm, but rainy winter night. Those random white spots are caused by raindrops reflecting the camera's flash.
Looks pretty minor (if it's not YOUR car)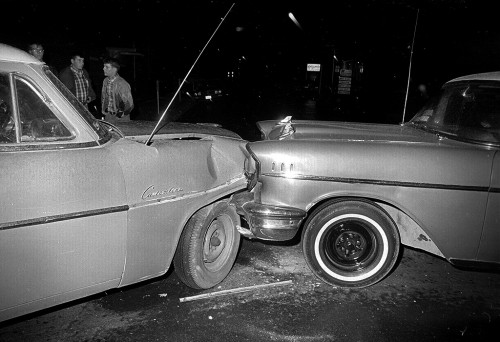 I'm going to guess the guys in the background are involved in the crash in some way. They have The Look on their faces.
I'm guessing the wreck was minor enough that nobody was hurt. The best indication of that is that the windshields don't have any head dents.