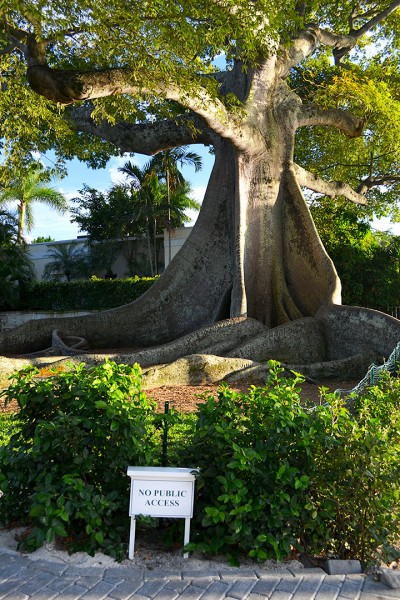 You know from yesterday's manatee post that Road Warriorette Anne in in town for a few weeks to escape the cold in Texas. Saturday morning, she walked on the beach with Wife Lila, then in the afternoon she suggested we do one of our favorite bike rides – the Lake Trail in Palm Beach.
It's about a 19.33 mile round trip from the house to the Palm Beach Inlet, and I haven't been on a bike in so long I'm embarrassed, so I wasn't disappointed when she said, "Let's just go to the Kapok tree by the Flagler Museum and call it a day." (That made it a 10.35 mile ride.)
The first thing we saw when we rounded the corner by the big tree was a gate over the walkway, some fresh fencing and a sign that said "NO PUBLIC ACCESS."
Palm Beach doesn't care much for us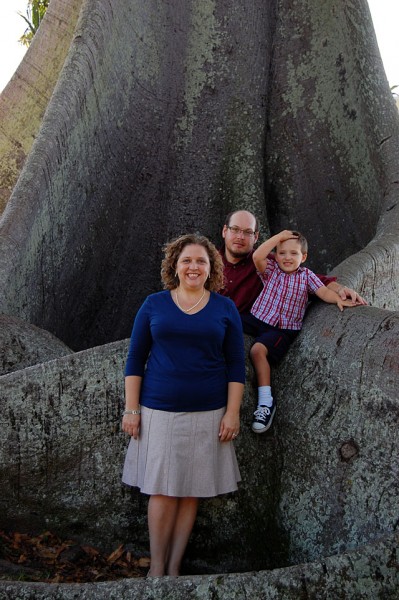 Palm Beach isn't fond of outsiders (who don't have ostentatious wealth). They make it difficult to get access to the beach, and parking is expensive and closely monitored. Forget about parking on side streets. So far as I know, there are no public restrooms in town (although the guys and gals at the fire stations will give you a break if you ask).
Still, restricting access to a landmark like the Kapok tree, which was seen by Henry Morrison Flagler's guests as they were pulled by it in Afromobiles at the beginning of the 20th Century, is a particular affront. It must have just happened, because everybody who came by, including parents who wanted to let their kids climb on it, was surprised and outraged.
Son Matt played in its huge roots when he was a little boy, and he brought HIS son, Malcolm, and Sarah there for a family portrait in 2008.
Photo gallery of the Kapok tree
It didn't take long to come up with a representative sample of photographs showing people enjoying the tree. I've posed out-of-state bike tourists with it, and photographed scores of kids (and adults) marveling at the living landmark. There was almost always someone there when I've ridden by it.
Click on any photo to make it larger, then use your arrow keys to move through the gallery.