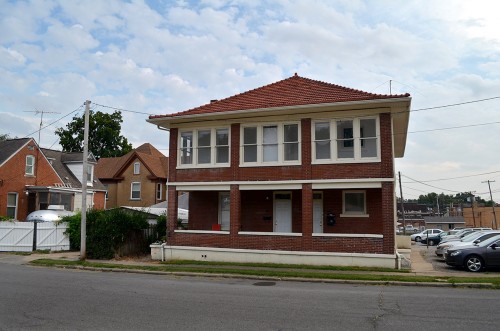 I was pretty sure the brick apartment building I was looking for on Bellevue Street had been torn down, but I decided to shoot this house at 815 Bellevue just for the record. Tonight I did a search for any  Missourian stories related to that address. It's amazing how much you can reconstruct from personal notes, briefs, ads and obits.
The house belonged to the Glenn Hope family going back to the 1930s. Mrs. Hope was a teacher who was socially active in bridge clubs and the United Daughters of the Confederacy. Mr. Hope owned the Ford, Buick and Nash automobile agencies in Cape Girardeau, and had been associated with the St. Louis-Cape Bus Lines.
Over the years, a number of different people lived with the Hopes.
Finally, we see the obits of the Hope and Siemers families, the announcement of a public auction for the contents of the house, followed by a rental notice. It's like the whole arc of the house has been captured in newspaper briefs and personal announcements. Here is a sampling of the stories. [As much as possible, I tried to reproduce the actual wording and grammar of the day, even though it makes for some confusing reading today.]
February 3, 1930 – Mrs. Glenn Hope, 815 Bellevue Street, was hostess to members of the Friday Club and additional guests at a bridge party at her home Saturday afternoon. There were two tables of bridge, and the club prize went to Mrs. Ernest Walker; the guest prize to Mrs. Ed Pott.
December 8, 1930 – The Wimodausis Club of the Centenary Methodist Church will meet with Mrs. Glenn Hope, 815 Bellevue Street, Tuesday afternoon at 2:30 o'clock. Assisting Mrs. Hope will be the following co-hostesses: Mrs. W.T. Siemers, Mrs. J.D. McFarland, Mrs. W.P. Caruthers, Mrs. Ray Walb and Mrs. Earl Byers.
February 12, 1932 – Mr. and Mrs. Glenn C. Hope, 815 Bellevue Street, are in St. Louis to attend the automobile show.
Front porch enclosed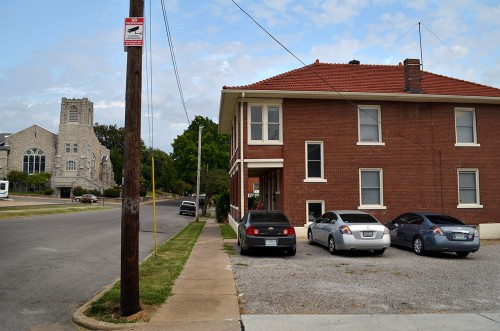 March 15, 1934 – Workmen directed by Will Taylor enclose front porch on residence of Glenn Hope, 815 Bellevue Street, with glass and screen; area to be used as sleeping porch.
May 11, 1934 – The condition of Dr. W.G. Siemers, a dentist, who has been ill for four months with a heart malady and other complications, was reported today as grave. He is now at the home of Mr. and Mrs. Glenn C. Hope, 815 Bellevue Street. Prior to his illness, Dr. and Mrs. Siemers and daughter Lorraine lived at 1439 Bessie Street, and he had his dental offices at 801A Broadway.
March 20, 1935 – W.O. Medley, former cashier of the Bank of Gordonville and who resides at 815 Bellevue Street, sustained cuts on the head and on his right hand when he stepped from behind one automobile, parked on Broadway in front of the Southeast Missouri Telephone Co. building, and walked into the path of a west-bound car, driven by H.E. McCormick, 1536 Whitener Street, and was knocked down. [Mr. Medley was Mrs. Hope's father.]
January 22, 1938 – The date for a reunion to honor Miss Martha Shea of Teachers College faculty and to mark the 25th anniversary of the Black Mask Dramatic Club of the college has been fixed at March 5, and a dinner will be given at the Hotel Marquette. It was recalled at the college that the Black Mask was not actually formed on the college campus, but was organized by students and teachers, who had gathered for the purpose, at an apartment at 815 Bellevue Street.
November 28, 1940 – Glenn C. Hope, 815 Bellevue Street, was taken to Southeast Missouri Hospital this afternoon. He had been at his place of business, the Hope Auto Co., 725 Broadway, until Tuesday night and went home with a severe cold. His condition was said at the hospital to not be serious.
March 15, 1941 – One of the series of benefit card parties to be given by the local chapter of the United Daughters of the Confederacy will be held a 2:30 this afternoon at the home of Mrs. Glenn C. Hope, 815 Bellevue Street.
September 2, 1942 – Miss Lorraine Siemers, daughter of Mrs. Marie Siemers, 815 Bellevue Street, will go to Bonne Terre Sunday to begin teaching in junior high school next week.
June 6, 1944 – The Wesleyan Service Guild of Centenary Methodist Church, will meet at 7:30 o'clock Wednesday evening with Mrs. Glenn Hope, 815 Bellevue Street. Mrs. Beulah Riley will have charge of the program on "The Present Day Status of Women."
March 7, 1945 – Arriving here Tuesday night from Topeka, Kans., where he has been a patient in Winter General Hospital since returning to the states, Jan. 31, Pfc. Clyde Arms will spend a 21-day furlough with his wife at the home of Mr. and Mrs. Glenn Hope, 815 Bellevue Street, Mrs. Arms' temporary residence. Pvt. Arms, in service two and a half years, is in the Air Service Command and served, since October 1944, in New Guinea. Upon expiration of his furlough, Pvt. Arms will report to a redistribution center in Miami, Fla.
December 27, 1949 – Mrs. Henry Ellis of Hobbs, N.M., arrived Saturday to visit with her mother, Mrs. Marie Siemers, 815 Bellevue Street. Mr. Ellis will arrive here tomorrow to spend New Years here with his wife and mother-in-law. Mrs. Ellis is the former Lorraine Siemers of this city.
May 26, 1958 – Sunday visitor guests of Mr. and Mrs. Glenn C. Hope and Mrs. Marie Siemers, 815 Bellevue, and of other friends were Miss Tula Marie Standley, Miss Annie Lester, Miss Fay Champion and Mrs. Lola Pratt, all of Paducah, Ky. The group was taken on a drive around the city, especially to view the many roses now in full blossom, and to the Rose Test Garden and along the Ten Mile Garden span.
 Mr. and Mrs. Hope, Mrs. Siemers die
July 13, 1967 – Glenn Charles Hope, a landowner and former businessman active in civic affairs, died at 10:05 Wednesday at a hospital here. He resided at 815 Bellevue. You can read his obituary here.
July 28, 1970 – Mrs. Marie M. Siemers, 76 years old, died shortly before midnight Monday. She had worked for Vandeven Mercantile Co., 22 years, before retiring in 1967. The former Miss Medley was born March 16, 1894, near Gordonville, and married Dr. Walter Siemers there in November 1918. He preceded her in death in 1933. [This is incorrect, because a story above said he was gravely ill in 1934.] Here is her obituary.
August 14, 1970 – Mrs. Maude Medley Hope, 815 Bellevue, died this morning in a nursing home here. She was married to Glenn C. Hope, Nov. 27, 1911, at Gordonville, and he preceded her in death July 12, 1967. Mr. Hope was formerly owner of the Ford, Buick and Nash automobile agencies in Cape Girardeau, and had been associated with the St. Louis-Cape Bus Lines. Mrs. Hope was a retired schoolteacher, a graduate of the Old Normal School. You can read the full obituary here.
July 29, 1971 – Advertisement: On Saturday, July 31, 1971, at 815 Bellevue Street, the following items to be auctioned are … This is the property of the late Glen C. Hope, Maude M. Hope and Marie H. Siemers.
September 25, 1981 – Classified ad: Huge completely refurbished second floor of duplex for rent. Fireplace, carpet, heat and water. No pets. 815 Bellevue. $275 a month plus deposit.