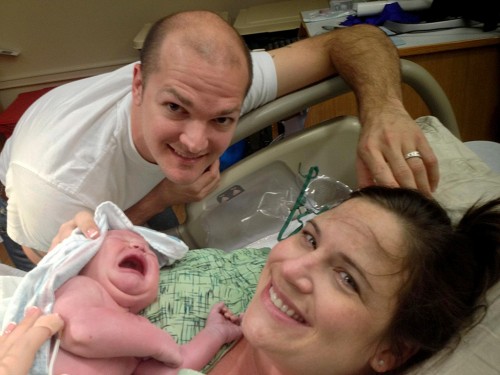 STOP THE PRESSES!!!! I always wanted to run into the press room to say that, but I never had a chance.
We're going to interrupt our normal programming for an important announcement that is of way bigger significance than the story I had slotted for this space.
Son Adam and his wife, Carly, presented us with our third grandson on the evening of February 4, 2013. The news is so fresh that about all I can tell you is that Mother, Baby and Father are doing fine. All the details that Wife Lila and Mother are interested in will have to wait until the first official press release from the parents.
Son Matt's arrival was announced over the newspaper's two-way radio system. I got Baby Whatsit's touchdown info via a text message. (Name, like weight, length and all that other stuff will come later.)
Here's what Grandson Graham looked like when he was born, plus copies of the newspaper mockups we made for Matt and Adam's birth announcements.
To recap, we have the following grandsons: Matt and Sarah's son, Malcolm, who is 8; Adam and Carly's two boys, Graham, almost 2, and Baby Whatsit, barely touched down.
UPDATE with NAME and STATS
Didn't take Grandmother Lila long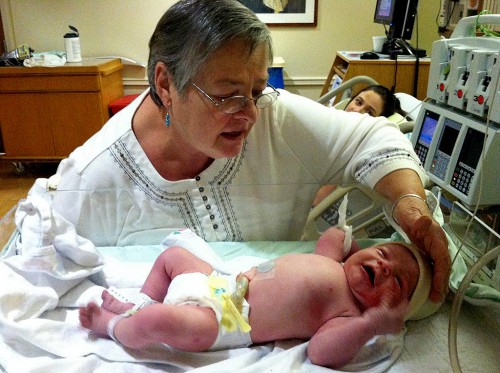 It didn't take Wife Lila long to jet out to the hospital to see her new grandson.
Name and stats are now available via Facebook post from Adam: "Elliot Lane Steinhoff born 9:15 pm on 2/4/2013. 7lbs 8oz and 19.5″ long. Chuck Norris wishes he could be as strong as Elliot's mom on his best day."