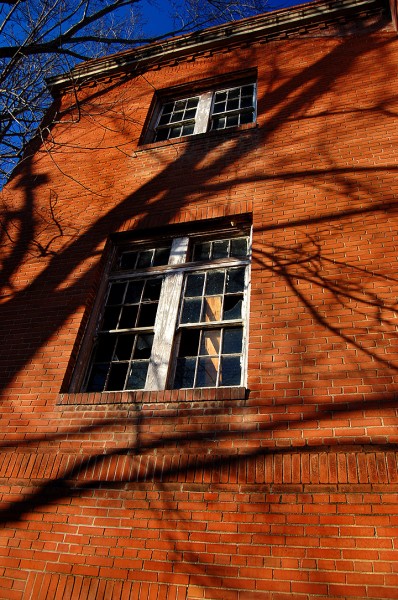 You'd never know if by looking at it today, but the present site of the town of Commerce was first occupied by French Settlers in 1788, making it the third-oldest present site in Missouri after St. Louis and St. Charles, per Wikipedia.
This brick school building stood boarded up when I shot it on December 10, 2011. When I returned two years later, it looked much the same.
The 2011 and previous floods have not been kind to the community. Fred Lynch's gallery of flood photos in The Missourian May 8, 2011, prove that.
That might explain why the 2000 census recorded 110 people in 42 households in the community, but only 67 in 30 households in 2010. Some of the houses Fred showing being sandbagged looked empty when I went through there in 2013.
The Ghost of Commerce

In 2010, I shot a series of videos of Wife Lila's Uncle Ray Seyer talking about growing up in SE Missouri. In this segment, he talks about ghosts and other supernatural things. At about the three-minute mark in the video, he describes a mystery rider who would jump on the back of the horse ridden by a doctor just as he was headed down the hill leading into Commerce. The doc could feel the ghost jump on the horse at the top of the hill, but nobody would be there when he got to the bottom.