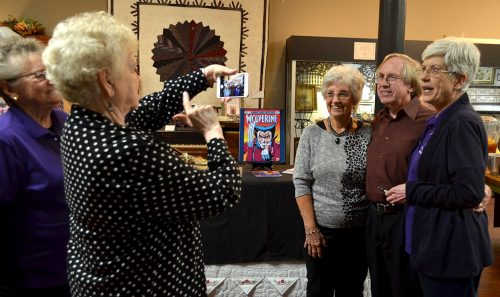 Roy Thomas visited Jackson's Cape Girardeau County History Center for a reception that also spotlighted Michael Archer's exhibit, "When History and Comics Collide."
Roy, who created or co-created more than 70 action comicbook characters and succeeded the legendary Stan Lee at Marvel Comics, attracted young folks, mostly fans of his work, and older folks, who remembered him from "back then."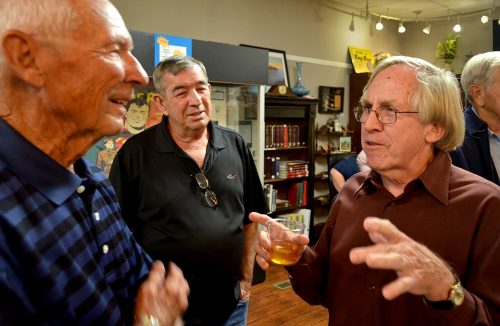 He described a woman as one of his first girlfriends. They were serious enough that they hatched up a plan to run away together. Their scheme was thwarted, however, when their tricycles got to the end of the block, and they realized they weren't allowed to cross the street by themselves.
A stickler for detail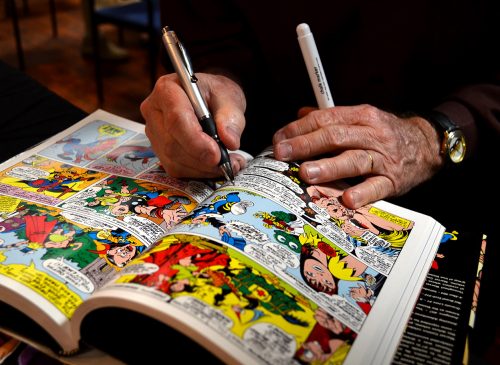 No detail escapes his eye. When asked to autograph a book, he said that it contained a typo. He turned to the page and corrected it before he signed his name.
Docent Bridget Bingham appears enthralled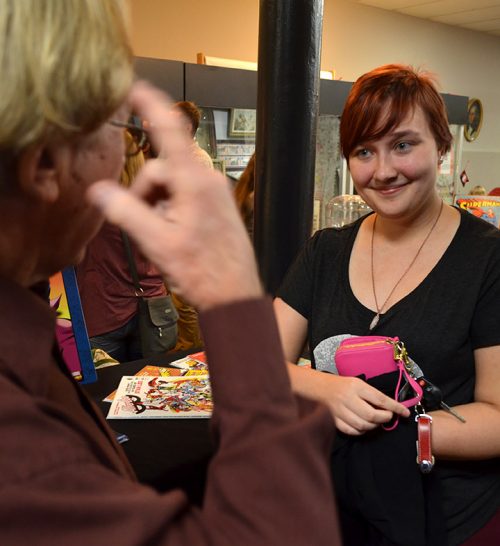 Bridget Bingham, a docent at the History Center, and a teacher of graphic design, chatted at length with Roy.
He'll be back in Jackson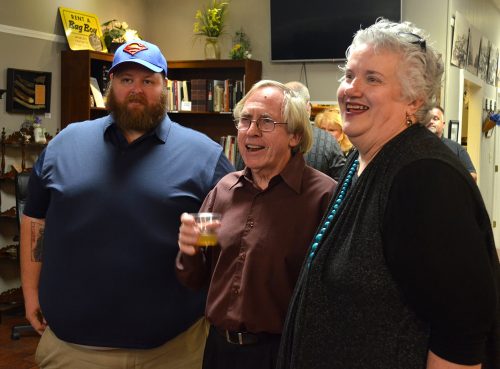 Museum director Carla Jordan said that Roy will be back in Jackson February 23, from 3 p.m. to 9 p.m. All of downtown Jackson will be celebrating his career as a writer, editor and creator with both Marvel and DC Comics.
He will probably be at the museum around 5 p.m., she said.
Roy and the fireworks stand


After almost everybody had left, Roy's wife, Dann, prompted him to tell the story of his brief period as an operator of a fireworks stand located down by Wib's BBQ. It's best if you hear it in his own words in this video.
Gary Friedrich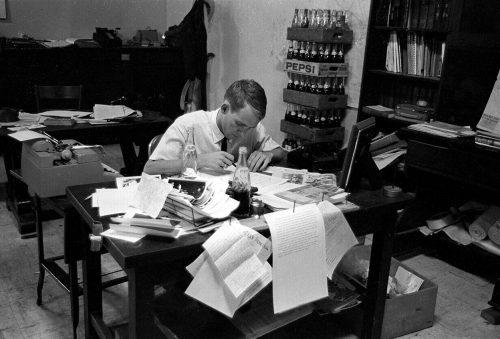 When I heard that Roy was coming into town, I made a couple of prints of Gary Friedrich for her to give to him because I knew they ran around together. Gary was one of my editors at The Jackson Pioneer.
Much to my surprise, I found the photo displayed in the museum when I walked in. It turned out that Gary went on to become a well-known member of the "Marvel Bullpen" in the '60s.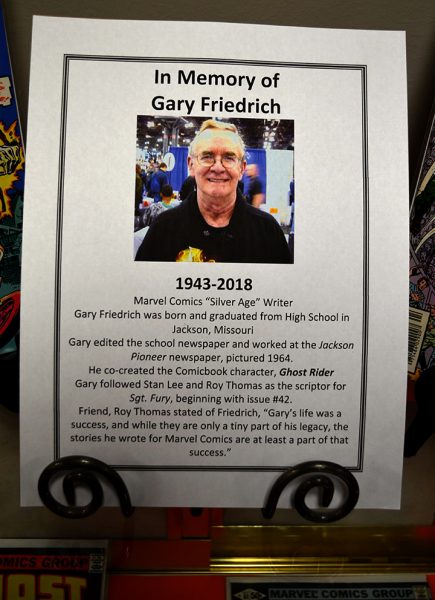 Roy laughed at the big stack of Pepsi crates in the background.
"I love this picture of Gary," he said. "All those Pepsis stacked there in the back are probably Gary's. They were probably all for him. He would drink a whole mess of Pepsis every day. By the time he was in his 30s or 40s, i think every tooth in his mouth was false. Like other people smoked cigarettes, he drank Pepsis. He looks so young here. I would have been about 23 at that time (1964ish), so he was only about 20 or 21." [Note, I struggled to find how to spell the plural of Pepsi. This was the most common, even if it looks strange.]
"Whatever happened to Gary?" I asked.
"Sadly, he just died recently."
A very nice obituary for Gary ran in The Missourian on September 4, 2018. My first thought was, gosh, he sure died young. That's when I realized that he was four years older than me.
Gary's Fair expose attempt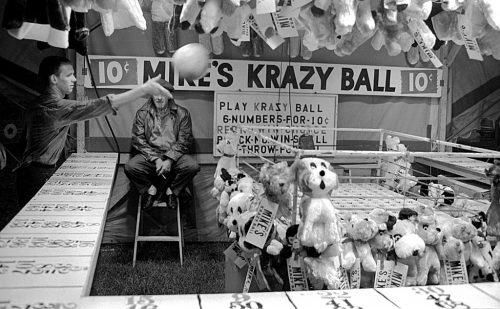 Gary had an idea that we should do a big expose on gambling at the Southeast Missouri District Fair. Here's how it turned out. That's Gary on the left, trying to win a piece of plush, by the way.
Roy Thomas gallery
Here's a gallery of photos from the reception. Click on any photo to make it larger, then use your arrow keys to move around.