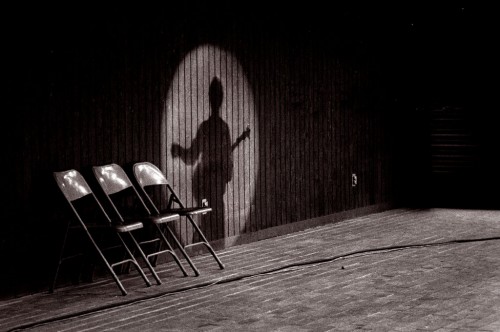 I did a post on Pete Seeger titled Pete Seeger & Songs of My Life in 2010. In it, I wrote of the photos I had taken at the White Springs Florida Folk Festival, "He just turned 91, so I'd better have them ready for an obit. I hope it's later, not sooner, though." I invite you to revisit those photos.
I woke up this morning at 5:10 to get a drink. As is my habit, I hit the keyboard to wake up the computer see if we were at war with anybody new. The lead headline that come up was that the clock had run out on Pete at age 94.
You can say it is unexpected when someone who is 94 dies of natural causes, but it's still a shock when a national icon passes.
This machine surrounds hate and forces it to surrender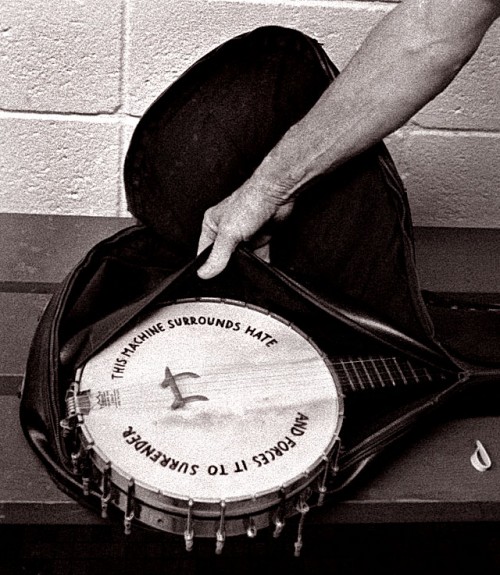 It's funny how two photos that don't even show Pete are my favorites from that evening in the spring of 1977.
No posse, no entourage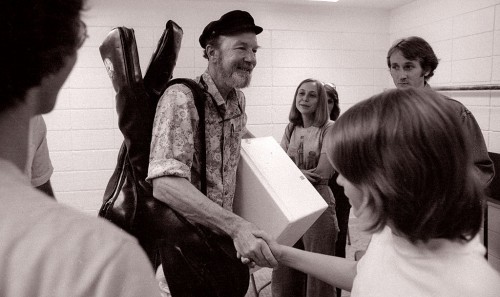 After the performance, Pete stuck around backstage to sign autographs, pose for photos and to talk with his admirers, one and all. Then, when nobody had anything else to say, Pete hoisted up his banjo and guitar and a box and walked out into the night. I thought about that exit when I read what Arlo Guthrie wrote this morning.
He passed away. That doesn't mean he's gone
Arlo, the son of Woodie Guthrie, and a long-time friend and fellow performer, posted this this morning.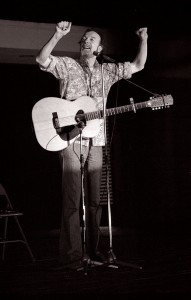 I let him know I was having trouble writing his obituary (as I'd been asked) but it seemed just so silly and I couldn't think of anything that didn't sound trite or plain stupid. "They'll say something appropriate in the news," we agreed. We laughed, we talked, and I took my leave about 9:30 last night.
"Arlo" he said, sounding just like the man I've known all of my life, "I guess I'll see ya later." I've always loved the rising and falling inflections in his voice. "Pete," I said. "I guess we will."
 I turned off the light and closed my eyes and fell asleep until very early this morning, about 3 AM when the texts and phone calls started coming in from friends telling me Pete had passed away.
 "Well, of course he passed away!" I'm telling everyone this morning. "But that doesn't mean he's gone."