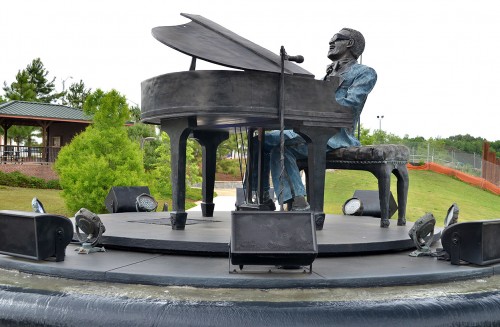 While we were meandering on back roads to get home to Florida from home in Missouri, one of the Road Warriorettes – I think it was Curator Jessica – spotted a guy playing a piano next to the Flint River in Albany, Georgia. That was worth a U-turn.
Ray Charles is a native son of Albany
Here's a description of the park and sculpture from a city website:
Albany Georgia, birthplace of Ray Charles, has memorialized the city's most famous native son with a downtown park that bears his name, airs his music, and features a one-of-a-kind sculpture that is one of only two sculptures in the world that bear the likeness of the legendary blues and jazz singer.
Sculpture plays music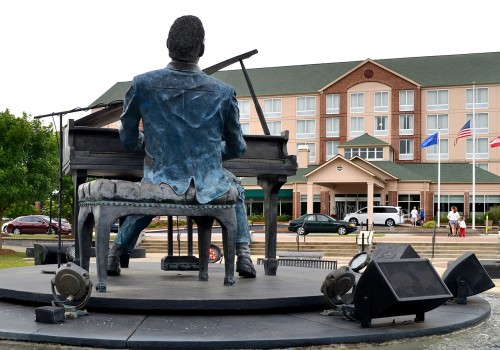 Located in Downtown Albany on Front Street between Oglethorpe Blvd. and Broad Avenue, directly accross the street from Hilton Garden Inn, Ray Charles Plaza, designed by landscape architectural firm Jordan, Jones and Goulding of Norcross Georgia, sits on the bank of the Flint River and gives Riverfront Park visitors the experience of a Ray Charles performance. A revolving, illuminated, bronze statue of Ray Charles seated at a baby grand piano, the work of sculptor Andy Davis, is the park's centerpiece.
Miniature displayed in visitor center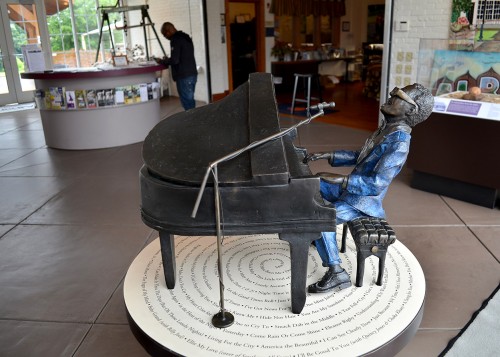 As water flows down the sides of the statue, music by the legendary blues singer plays on the park's loudspeakers. Students from Georgia Academy for the Blind assisted Mr. Davis with the design. The students and Mr. Davis also designed a touchable miniature version of the statue that features markings in braille.
The statue is flanked by two walkways designed as keyboards with raised sharps and flats that form benches. The walkways connect to the Albany Riverwalk. The park's "scenery" includes a large treble clef in the plaza floor and "moonlight in the pines" from the song, Georgia On My Mind. Reflecting Georgia's longleaf pine forests, the "Moonlight in the Pines" scenery consists of illuminated loblollies, longleaf pines, live oaks and grasses.
Downtown has another attraction that I'll save for another day.
A Hocking Block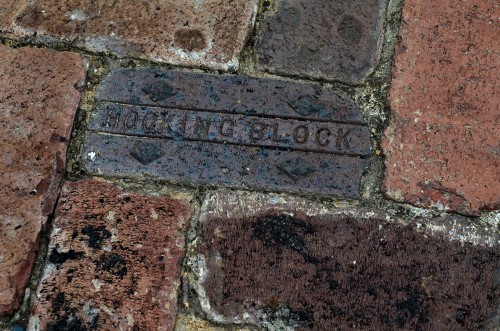 You KNOW you are traveling with a museum curator when she starts jumping up and down all excited at spotting a Hocking block in a walkway in Albany, Georgia. The block came from a brickyard in SE Ohio, not far from where the Athens County Historical Society and Museum is located.