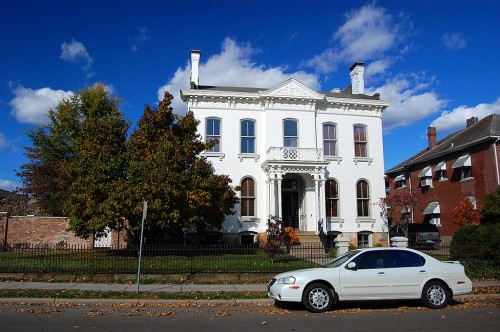 There is a striking two-story white house at the corner of Themis and Pacific across from Trinity Lutheran School that I've always wondered about. I paused on a Halloween afternoon's bike ride in 2009 long enough to pop off a couple of frames.
It turns out there's a world of information about it in its National Register of Historic Places registration form. If you are a fan of architectural detail, it's worth a read.
History of Pott house
Frederick W. Pott was born in Prussia in 1839. He and his parents came to Cape Girardeau in 1854. Father and son joined the Union Army when the Civil War began, and Frederick was captured in the Battle of Shilo. After the war, he found employment in the milling industry. He married Mary (or Maria) Karau in 1865. They eventually had 11 children.
In 1877, he built Planters Mill at the foot of Main Street. Within four years, he owned the mill free and clear. The coming of the railroad to Cape Girardeau kicked off a boom, and around 1885 the Potts commissioned the building of this house at 826 Themis Street for their growing family. By 1888, Pott had increased the capacity of Planters Mill from an initial daily output of 80 barrels of floor to 200 and employed at least 10 men.
Disaster stuck when a fire swept through the mill on March 27, 1909. Pott's insurance only partially covered the loss of the mill, elevator, warehouse and a large quantity of wheat, flour and bran that had been stored on the premises. The total loss was estimated at $50,000. He died the next year, in 1910.
Became office for doctors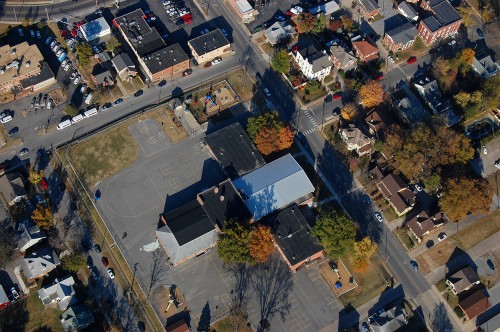 The house remained in the family until 1938, when it was sold to D.W. Hope, a Cape physician. According to the historic places register application, professional offices were developed in the building after it was acquired by Dr. Hope, listings in city directories from 1942-1973 indicate. The H-R-S Company was formed by Dr. Hope and three other doctors: A.J. Rasche, Frank W. Hall and Mitchell H. Shelby.
The next owner was James McHaney, who sold the property to Steven and Emily Mellies on April 28, 1995.
The house is the white building at the top center of this November 2010 aerial photograph. Trinity Lutheran School is in the center.