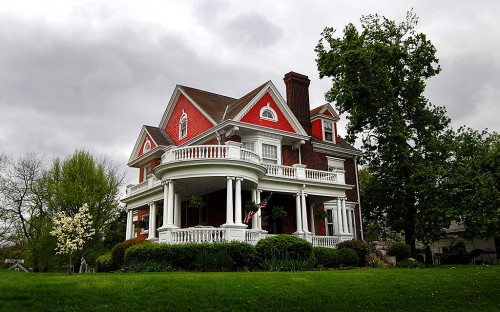 The William Henry and Lilla Luce Harrison House at 313 Themis Street was built in 1897 by the architect who designed Academic Hall.
You can read the history of the house in the National Register of Historic Places registration form.
A 2003 Missourian story tells how Dr. Robert Hamblin and his wife, Kaye, bought the house in 2003 and set about restoring it., which is why the paper is currently referring to it as the "Hamblin House."
The story summarized the history: "The mansion once was one of the finest houses in Cape Girardeau. William Harrison, who became known for his timber business and investments, including the H&H Building on Broadway, bought the house in 1990 [that's a typo, it should be 1890], three years after its completion. It remained in the Harrison family until the mid-1980s, when Mayor Al Spradling III's family sold it to Dr. Jesse Ramsey. Spradling's wife, Pam, is a Harrison descendent. The house sat vacant for a few years at the end of the 1990s".
I'm glad to see this landmark restored. Too bad the university plans to tear down an even older Cape Girardeau landmark at the River Campus.