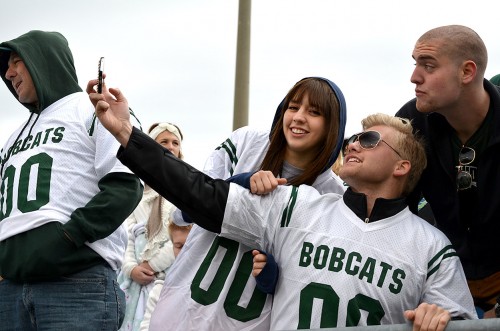 The webosphere had been all agog this week because Oxford Dictionaries declared "selfie" to be the word of the year for 2013. For you old folks, a "selfie" is defined as a smartphone self-portrait shared on social media.
For you young folks, a "dictionary" is what we used to call a non-electric spellchecker that was accessed by sneakernet and could be used by only one person at a time.
2013 ain't 1968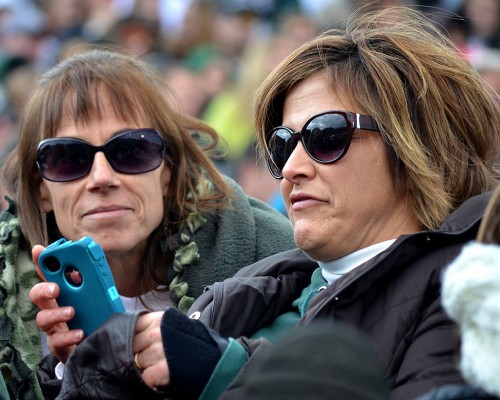 While I was in Athens, Ohio, to do a presentation on the birth of the student rights movement, Curator Jessica finagled a field pass to the OU vs Miami of Ohio football game. Ostensibly she wanted me to shoot members of the undefeated 1968 football team to go along with action shots I have of them. I think she really wanted me to watch her younger sister, a member of OU's Marching 110 prance around on the field playing her slidey thing. (Jessica is a band alum.)
I was less than excited. It was cold and parking was somewhere close to Louisville. Still, Curator Jessica can be persuasive.
Since I didn't have to worry about game action, I wandered around looking at the spectators.
It became apparent very quickly that actually watching the game was secondary to gazing at portable electronic devices.
Here's how we did it in the old days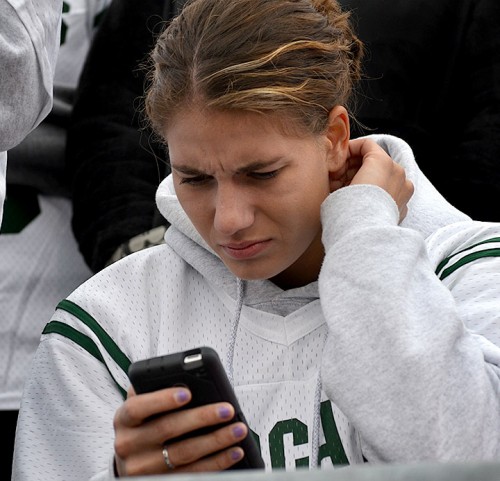 One of the female students I was photographing while she was busy texting away gave me a "What is this creepy old guy looking at?" look.
I walked up, introduced myself and said, "I'm here doing a compare and contrast with football games from back in 1968. See, in my day, we didn't have these fancy gizmos to keep our friends updated on the game. We had to use smoke signals. The stadium people would have small fires in pots scattered through the stadium so we could keep in touch with the folks on campus."
"Really?" she asked, not quite convinced.
"Sure," I said. "Wander around after the crowd leaves and you can probably still see small circles here and there burned into the concrete." Then I walked away.
Urban legend or fodder for 30th Reunion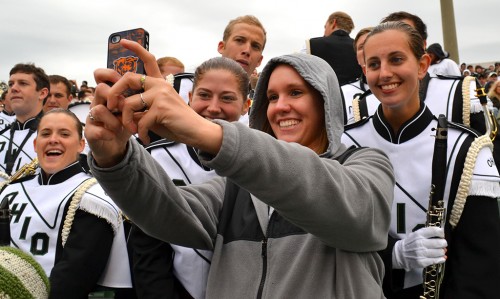 There is no doubt in my mind that the young woman went back to her dorm and shared the information I gave her.
It is either going to be the start of an urban legend or a story that will haunt her when she goes back for her 30th reunion.
Photo gallery of the New Age
Here's a photo gallery of a modern university football game, one with nary a signal fire to be seen. Click on any photo to make it larger, then click on the sides to move through the gallery. And, just like when I was a student, the stands emptied out as soon as the Marching 110 finished the halftime show. It's good to see that some things never change.