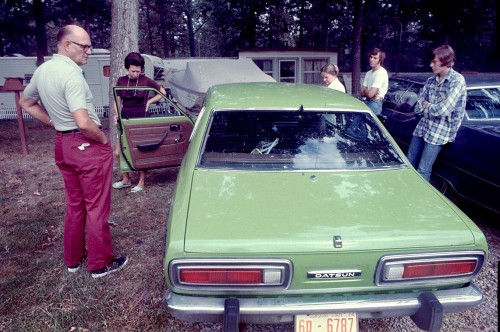 I was looking for some appropriate Father's Day photos when I ran across these shots taken at Kentucky Lake. My green Datsun has 1974 Florida tags, so this must have been the summer of 1973. I bought that car in Gastonia, N.C., just a few days before I left for Florida in January of that year. Brother David, whose driver's license was so fresh the ink hadn't dried, was drafted to drive it while I piloted a U-Haul holding all our possessions.
The dealership agreed to have someone man the service department on a Saturday to do the initial 600-mile service, so David and I went out to put as many break-in miles as we could. He was a little uncertain about driving a manual transmission, so I told him, "Just get it in high gear and don't worry about shifting until we need gas."
Wife Lila buzzed along in her yellow VW Bug herding us like wayward cattle. She did great until we hit West Palm Beach where she turned right off the turnpike instead of left toward civilization. I managed to honk her down before we all ended up as alligator bait.
A trailer for togetherness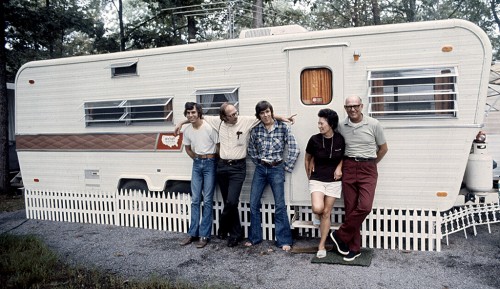 The first trailer Dad and Mother had on the lake was tiny. I don't know how we managed to stuff six of us in there. We must have had to synchronize turning over.
Trying not to smile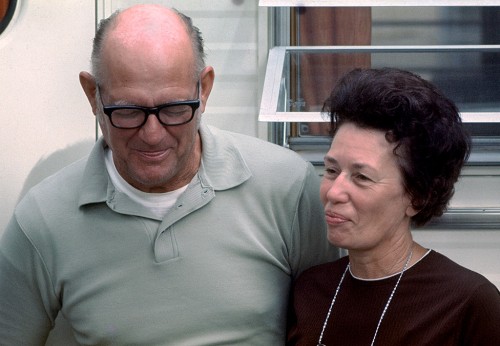 Dad had this funny way he'd stick his tongue out when he was trying not to smile. He's obviously pulling somebody's leg, probably Wife Lila's.
He couldn't hold it forever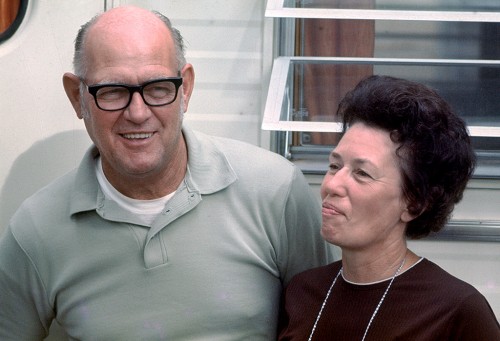 Eventually, the smile would bubble over. Mother's still trying to maintain her composure, though.
A happy couple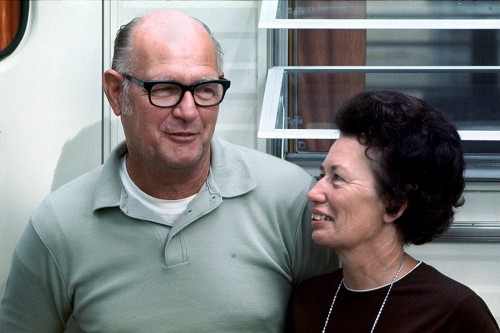 We had a lot of happy hours on that lake.
Dad died there of a massive heart attack while he was building a sandbox for Grandson Matthew in 1977. I'm sorry he was taken from us so early, but I'm glad it was there and not in some hospital surrounded by beeping machines.