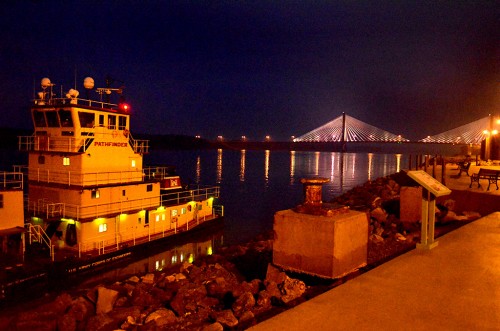 When I went to school back in Ohio, we had the Hocking River flowing through the campus (REALLY through it when it flooded every couple of years). I used to say, though, that to somebody who grew up on the Mississippi, the Hocking was barely a creek.
It was fun taking Ohio Curator Jessica down to the Mississippi at night. We happened to run into a couple of crewmen from the buoy tender Pathfinder who told us what it was like putting out the markers that keep the huge tows in the channel.
We heard music
We could hear music drifting over the floodwall. Jessica identified one of the sounds as coming from a trombone. She knew it was a trombone, she said, because she used to honk one.
I confessed that I could identify a drum or a cymbal on a good day; otherwise my knowledge of musical instruments was limited. "Is a trombone that horn with a slidey thing?" I asked.
I could hear her eyes rolling, even in the darkness.
The Crystal and Anna Serenade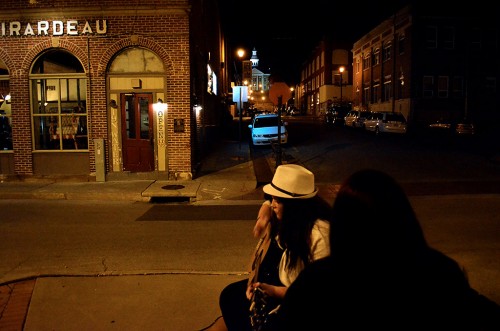 When we got up on Water Street, we ran into Crystal Lander of Jackson and Anna Nice of Cape doing some pickin' and singing.
Showing my newly-acquired musical sophistication, I observed that a trombone was not involved in their impromptu performance.