I was roaming around Cape looking at all the bare ground where buildings had been torn down. One that caught my eye was at Christine and William across from the Town Plaza. There's a new Plaza Tire directly south of it.
I mentioned to someone that a sign said a new CVS pharmacy was going on the bare lot, but I couldn't remember what had been there before.
My friend said she couldn't remember, but had read the project had been delayed because a couple of big underground tanks had to be removed.
I remembered those tanks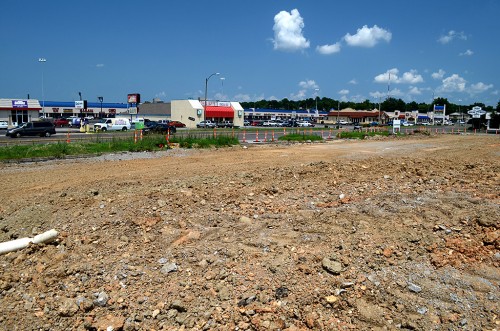 That shot me back over half a century ago. One of the most significant moments of my boyhood came flooding back.
Here's how I remembered it: When I was about 10, Dad was setting a big tank for someone. He had the load locked down and suspended about five feet off the ground while a worker for his client was leveling the dirt below it. He stepped off the crane for a break, then sent me back to get his jug of iced tea. When I climbed up into the cab, the tank owner went berserk. "Kid, get DOWN off there. If you touch something, you could kill that man.!"
I froze until Dad hollered back, "If I thought he was going to touch anything, I wouldn't have sent him." Turning to me, he said, quietly, "Fetch me the jug, please." I realized then how much confidence Dad had in me.
Missourian librarian Sharon Sanders pulled up a Frony aerial of the area right after the Town Plaza was built. From all the trucks parked around the lot, it might have been a trucking depot at one time. That would explain why they needed the tanks.