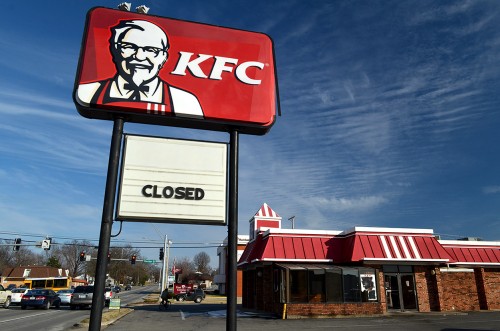 I have to admit that I'm a sucker for Kentucky Fried Chicken's hot wings, cole slaw and chicken pot pies. That's why I was disappointed when I drove by the KFC at William and Sheridan and saw the sign that said it was closed.
The Missourian had a story on February 10 that said not only was it closed, it was going to be torn down. The good news for people with my cravings is that it's going to be rebuilt.
When was it built?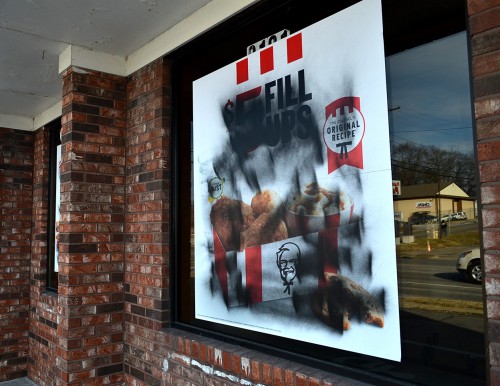 When I read the story, something was missing. If I had turned that copy in, editor jBlue would have kicked it back until I answered the question, "When was it built?"
I found that wasn't as easy to figure out as I thought it would be. It took a couple hours of rooting around in the Google's Missourian archives to come up with an answer. (Keep reading.)
The first reference to Kentucky Fried Chicken I could find was a May 23, 1970, story that said Ralph Harris was "remodeling his Kentucky Fried Chicken building at 2100 William Street, adding a center cupola to the roof, this to be painted in the red and white candy stripe effect which characterizes the food chain's buildings. The new cupola extends 12 feet above the building roof."
That address, 2100 William, would put in on the north side of the street, across the street from the present building, at 2101 William.
A&W Rootbeer expanding
A news brief right above that one said that Richard Popp is expanding his A&W Rootbeer facility at 335 North Kingshighway "by adding the longest automobile stall canopy in the city. The addition, to the west side of the existing building, is 120 feet long and provides 22 car stalls, the facility providing 32 stalls overall. The new canopy will include under-roof lighting and a system of speakers for customer order placement. Blacktop pavement will be added to areas not already paved."
A KFC on Broadway?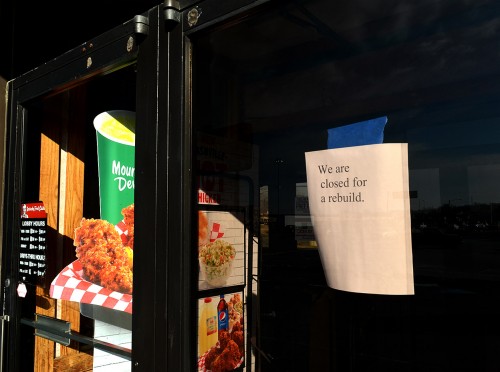 Adding to my confusion was a June 5, 1971, reference to steel being raised for a building in the 1300 block of Broadway that would house businesses, including a franchised Kentucky Fried Chicken Restaurant. It sounded like it was adjacent to a new Shell station at 1325 Broadway that was going to be managed by Kenneth Wunderlich.
An empire of KFCs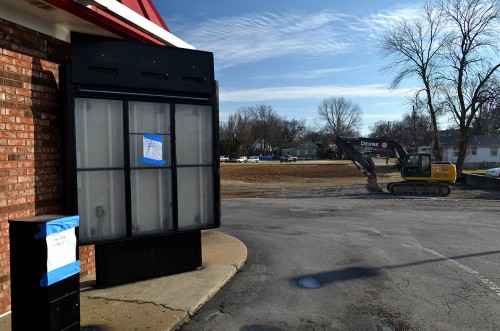 A May 9, 1976, business story by Frony mentioned that Kentucky Fried Chicken's local franchise operators, Ralph and Lloyd Harris are erecting a new building on Highway 61 in Jackson and plan to open a new facility there early in June. The Harris brothers will now have 11 of the facilities, including two in Cape Girardeau, two in Poplar Bluff, and one in each of the following: Sikeston, Dexter, Malden, Kennett and Hayti. A new one opened Thursday in Cairo, Ill.
I don't remember this one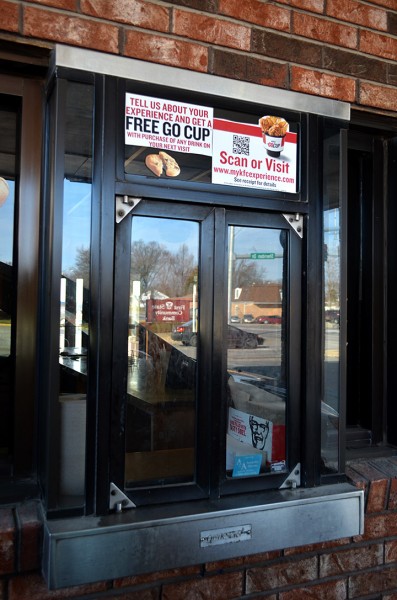 Frony's February 6, 1977, business column talked about a KFC I don't remember:
The term "restaurant" has its own local momentum. Another new one is to open soon and preliminary construction work has started on another. Frank and Lloyd Harris who, with their Harris Take Home enterprise, operate a number of Kentucky Fried Chicken restaurants in the area, are building another, this one at the northwest corner of North Kingshighway and Hopper Road. They recently purchased a portion of the area formerly occupied by the old West Mount Motel, which area fronts 340 feet on Kingshighway and has a depth roughly of 165 feet, from West Cape Development Co., the transaction handled by Cape Reality Co. Workmen are razing a building on the site. Plans are to have the structure ready in early summer.
The new facility will, in addition to the regular service given by other units of its type, feature a smorgasbord. The Harris brothers now operate Kentucky Fried Chicken stores at 2100 William, 1315 Broadway, also in Jackson and other area communities.
Here's the answer: 1981
I finally found the answer to when the present facility was built in an April 26, 1981, business column.
Construction will begin shortly on a new building on the south side of the 2100 block of William street for Harris Take Homes, Inc., owners and operators of Kentucky Fried Chicken Restaurants in Cape Girardeau and the area. Plans are in contractors' hands for bidding, and a contract will be awarded in a few days. The local firm, with offices at 1001 North Kingshighway, is owned by Ralph and Lloyd Harris, who opened a restaurant at 2100 William 16 years ago and three years ago built another at Kingshighway and Hopper Road.
The new building, featuring the latest in design by the Kentucky Fried Chicken firm, which franchises its outlets, will be 71 by 26 feet and is located on a lot 140 by 140 feet recently purchased from Texaco, Inc., which had operated a retail gasoline facility there. The building housing the station was razed to make room for the new structure.
This new restaurant, which will have seating for about 85 persons and have a drive-up window, will replace the present one on William. The Harris brothers own the group of buildings of which the restaurant is a part, and the old location will be leased to other interests.
Land behind KFC has been cleared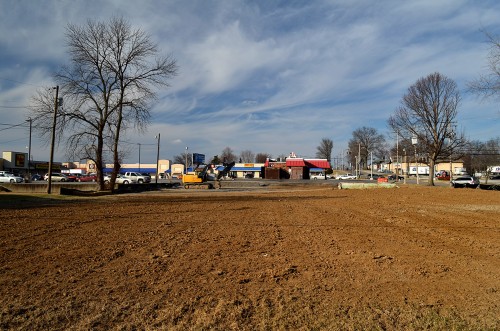 Google Earth shows four or five buildings that were in the area that has been cleared behind the KFC. The Missourian story said that land will be used as part of the new construction.
We're looking north from Good Hope towards William. Sheridan is to the right.