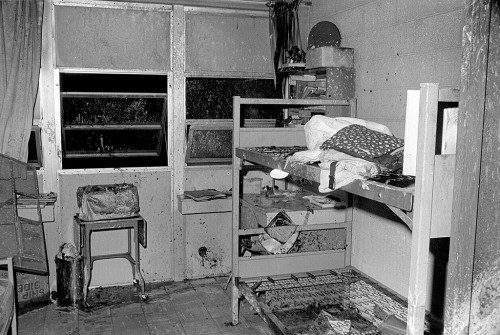 How many times have you been told "There are no dumb questions?" Take it from me, there ARE dumb questions. I asked one. More about that later.
The Missourian's January 16, 1967, front page lead story was "Cake Fires Girls' Dorm," with three of my photos. Clothing and bedding were destroyed and smoke and fire damage were extensive when fire enveloped a room in Dearmont Quadrangle, women's residence hall at State College, Saturday night (January 14).
Wally Sinwell looks at birthday cake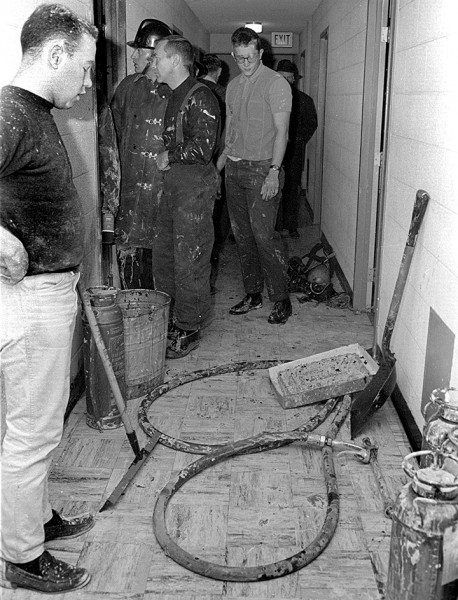 Wally Sinwell of St. Louis, right, who used hall extinguishers to contain the blaze, looks at birthday cake whose candles ignited paper, while firemen view the room.
B & C wings were evacuated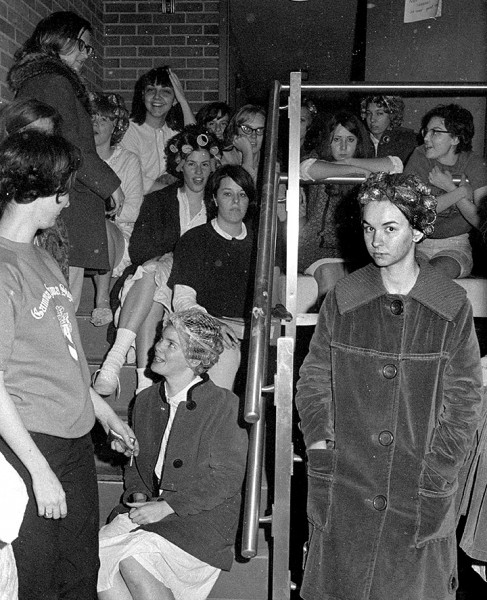 Girls living in B and C wings, in pajamas and pincurlers, were evacuated, but later returned to their rooms.
Contents damaged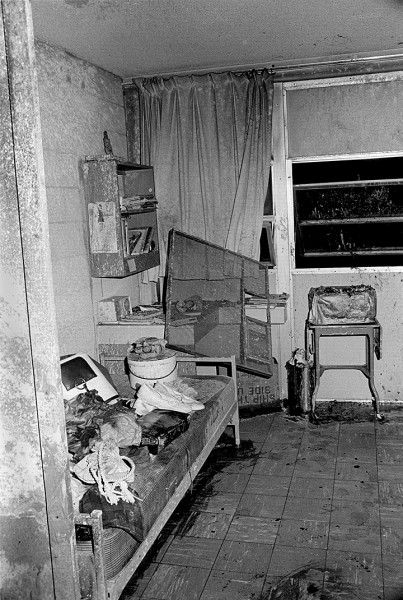 A fire which apparently started from a birthday cake Saturday night damaged a room on the fourth floor of Dearmont Quadrangle. Damage was extensive to the room and its contents. Firemen said mattresses on the bunk bed were destroyed, clothes in the two closets were badly burned and smoked, drapes on the windows were ruined and the ceiling will have to be redone.
Carroll Walker, dean of students, said the room was occupied by two freshmen, Miss Mary Lou Halliday, Shipman, Ill., and Miss Patricia J. Ham, St. Charles.
Preparing surprise birthday party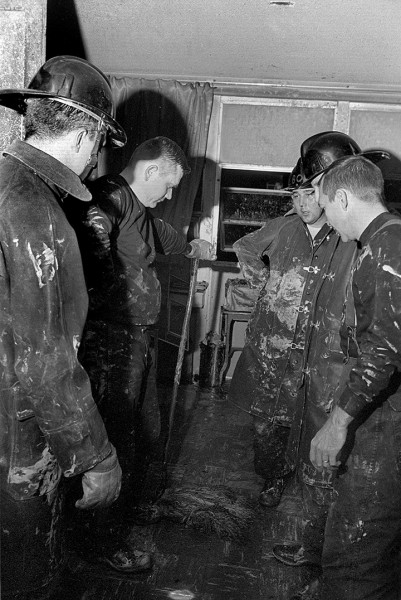 Walker said the girls told him they were preparing to celebrate the birthday of Miss Halliday. Some of the girls had taken her down the hall in order to surprise her.
Miss Martha Susan Owen and Miss Iris Anne Hargrove, both of Paducah, Ky., and Miss Patricia Ann Singrun, St. Louis, were in the room decorating for the party. Mr. Walker said they told him they were putting toilet paper on the ceiling and some was on the floor when a piece of the paper fell from the ceiling across the lighted candles on the birthday cake. The paper burst into flames and the girls said they tried to put the blaze out, but couldn't.
Here's the dumb question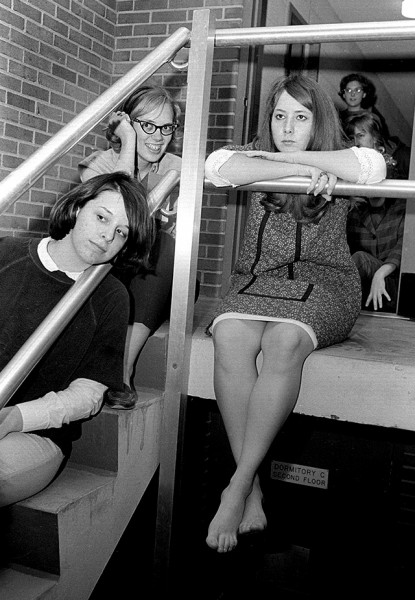 That was the official version.
Somewhere in a box in my shed is a tape recording I did of my interview with the girls where they confirmed that they had, indeed, dangled toilet paper all over the room. With luck, it'll never be found and played.
"When we walked into the room with the birthday cake, a streamer dropped onto one of the candles and the whole room burst into flames," one of them told me.
My question, which I tried as hard as I could to haul back into my mouth, was, "Was it supposed to?"
I think a withering glance was the only answer I got.
Student fought fire
Walter J. Sinnwell of St. Louis, a student who was in the parlor of the quadrangle when the fire broke out, collected building's fire extinguishers and attempted to put out the blaze.
Miss Halliday said that at one point the fire was thought to have been put out by the extinguishers, but when they went out looking for more extinguishers, some one heard and explosion – "probably a can of hair spray or spray deodorant" – and the room was engulfed in more flames than before.
Cake remained intact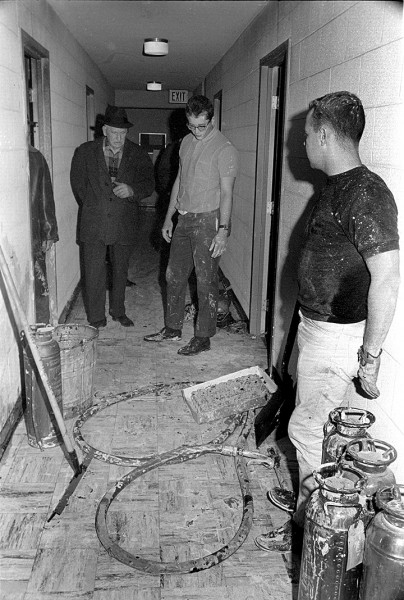 Capt. Paul Kesterson said a pumper, a ladder truck and nine men went to the scene. The Seagraves pumper and 140 feet of one-inch hose were in use for two minutes.
He said one of the girls was concerned because a radio her mother had given her Christmas was damaged. Through it all, he said, the birthday cake remained intact. It had some dirt and water on it, but was still in one piece on the hallway floor.
Photo gallery of women's dorm
I have to admit that charging into a women's dorm was a lot less exciting than I thought it would be. I never knew there were so many different forms of pincurlers. Click on any photo to make it larger, then click on the sides of the photos or use your arrow keys to step though the images.