I was curious about a big brick building at the southwest corner of William and South Main (or Water Street, depending on how you look at it). It has an "old" look to it, and an intriguing set of doors marked 101, 103, 105 and 109. (Click on the photos to make them larger.)
My first stop was the search box in The Southeast Missourian.
Almost the Discovery Playhouse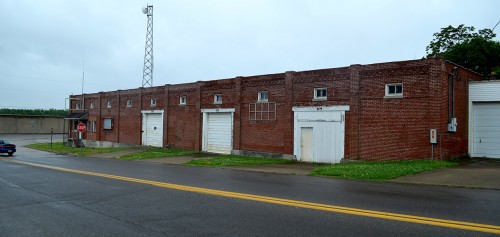 In 2007, there was a bunch of buzz that the Discovery Playhouse was going to locate there after moving from West Park Mall. Whether or not they actually moved in, I don't know. The Playhouse is currently in the old Walther Furniture Store and Funeral Home at 502 Broadway.
The 1968 City Directory assigned Biederman Furniture Company warehouse to the 101 address, with no mention of the other bays.
In 1979, 101 was listed as vacant, and Murakami Auto Service was in Bay 103.
The Great Snow Storm Cigarette Burglary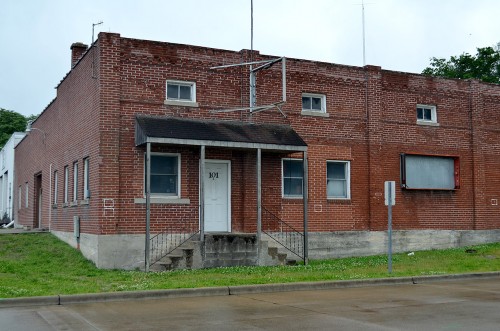 The most interesting story was in the January 14, 1931, Southeast Missourian: "Taking advantage of the cover afforded by a blinding snowstorm, burglars Tuesday night broke into and looted the Goddard Grocer Co. building at 101 William street, of 135,000 cigarettes."
What's the value of 135,000 smokes?
The cigarettes were valued at about $900. Thirteen cases of Lucky Strike and Camel brands of cigarettes were taken, and about 5,000 cigarettes of miscellaneous brands were missing, the story said.
Sam's Club in Cape is selling a carton of 200 Camel cigarettes for $43.25. That would make the 1931 haul worth about $29,193 today.
Goddard Grocer Co. was a favorite shopping spot for burglars. It was hit at least 10 times in a few years. Approximately the same amount of cigarettes were taken in a break-in on January 25, 1930. Three men who broke into Goddard Grocer, Buckner-Ragsdale Clothing Store and Kinder Drug Store on that night were sent to prison for terms ranging from four to six years.