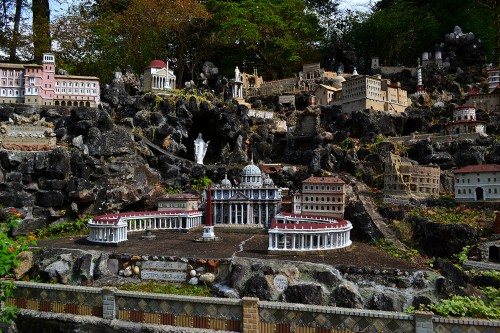 Traveling up I-65 in northern Alabama, I must have seen the signs for Ave Maria Grotto at least two dozen times over the years. I've even stayed in Cullman, where it is located, at least four times. Every once in awhile, I'd consider checking it out, but the impulse flickered out before I ever acted on it.
When we were checking out of the motel in Cullmen, Friend Shari saw a brochure advertising the place. "Want to give it a look?" she asked.
Furrowing my brow and trying to figure out if she was kidding, I said, "I'm game. Are you kidding me?" (She knows the only time I'm in a church is if I'm photographing it.)
We qualified for the $5 senior citizen admission (and they didn't even ask for proof of age). I have to admit that the first few objects didn't impress me much. They were an amateurish collection of concrete, tile, marbles and other building materials thrown together pretending to be art.
Brother Joseph Zoettl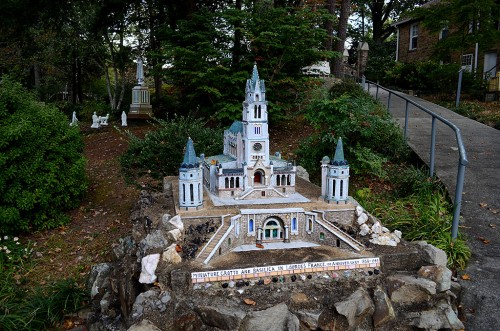 When we got into areas where Brother Joseph Zoettl started doing miniature buildings, I was more impressed. What interested me more was the story of the artist described on the Ave Maria Grotto website.
Brother Joseph was born in 1878. In 1891, he almost died of the flu that swept Europe. In 1892, he left for America where he served as a housekeeper for mission priests. After that, he went on to work 17-hour days in the St. Bernard Abbey powerhouse, seven days a week.
Made 5,000 small grottoes
In 1918, he started working with concrete and constructing little grottoes that could be sold in a gift shop. In 1932, after making 5,000 small grottoes to sell to support missions, he started on the project that you can see today. In 1934, the Ave Maria Grotto was dedicated, and he continued his work for another 40 years, using materials sent from all over the world. He built his last model, the Basilica in Lourdes, at the age of 80, in 1958. He died in 1961.
Ave Maria Grotto photo gallery
Here is a small sampling of Brother Joseph's work. Click on any image to make it larger, then click on the side of the photo to move through the gallery.