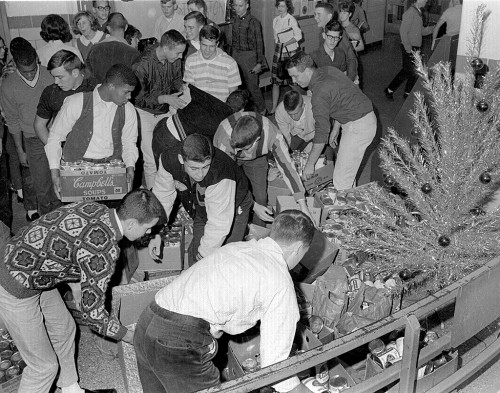 I don't know if I'd call it the Class of 1965's finest hour, but what happened during a Christmas food drive stuck out in some students' memories 10 and 20 years later.
When it came to for people to come up with their memories of Central High School for the 10th reunion, Lee Dahringer listed "20 cases of bean dip." Louie Ervin also listed the canned food drive (along with Twirp Week, baseball, football, student council and Tiger Den).
Treasure trove of 65 students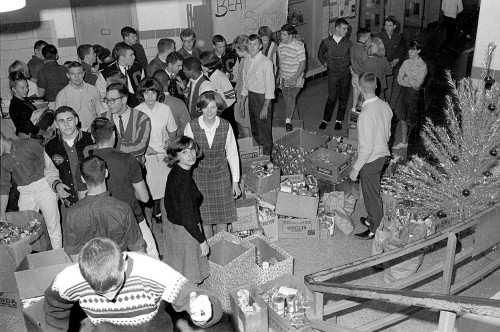 I'm assuming this is the infamous food drive because I don't see anyone from the Class of 64, but there's a smattering of the Class of '66 lurking around.
I'm pretty sure that's Joni Tickel in the dark sweater in the foregound (Wife Lila wasn't quite as sure), with Carole Rapp behind her. I see Louie Ervin, Lonnie Blackwood, David Hahs, Betsy Ringland, Charlie Baldwin and Jackie Knehans among the group.
 What was the story of the bean dip?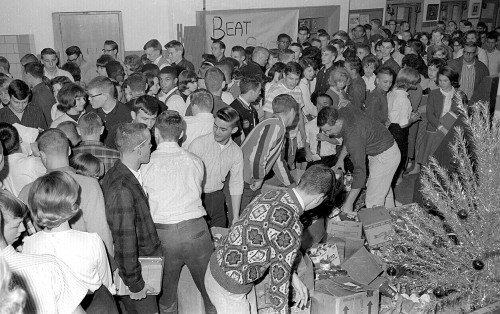 I don't have first-hand knowledge of the whole story, but as I recall, there was a contest to see which class could bring in the most canned goods to distribute to the needy. Whoever set up the contest must have not thought about the devious devils in the Class of '65 because the rules (if there were any) were extremely lax.
At the last minute, some folks showed up with 20 cases – 20 cases, not cans – of bean dip they had purchased cheaply. (Or knowing these guys, the cases may have fallen off a truck.)
That was more than enough to seal the deal for the Class of '65. It wasn't what I would consider a classy move since bean dip may not have been the highest priority for hungry families, but it won the contest.
I see Charlie Duncan, Jim Feldmier, Brad Wilson, Ron Marshall, Jim Lorberg, Walter Stafford and Tom Holt in the mix.
Halls were packed
The halls were packed. Faithful Reader Terry Hopkins, '66, is more or less in the middle of the melee.
Ranked right up the with The Hearse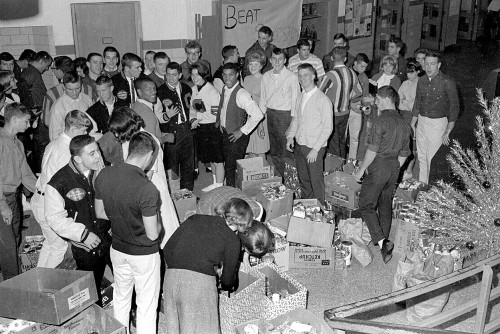 For the 20th reunion, Pat Sommers listed his CHS memories: "The Dances, Senior Skip Day, Wimpy's, school plays, canned food drives, Debate trips, Mr. Chapman, Kennedy's death, and the dress-up day when Randy, Mike, Paul David, Phil and I brought the Hearse to school!!"
I think I can pull Ken Trowbridge and Steven Crowe out of this crowd, along with Craig Brinkman.
Click on the photos to make them larger and add your own IDs, plus correct my errors.